13 January 2005 Edition
Predictable and preventable
The 26-County health crisis soared to new levels yesterday, as the number of patients on trolleys in A&E departments across the state rose to 422. This is the first time the number has risen over 400.
The failure of the Dublin Government to implement its own health strategy meant this latest crisis was both predictable and preventable.
Every week, the Irish Nursing Organisation releases reports of overstretched staff and wards, and of the growing crises in the state's A&E departments. Every winter, with the inevitable bad weather and the increase in road accidents among some of the problems faced, this predicament gets worse.
Many of the remedies to this problem are contained in the government's own health strategy.
Since its re-election in 2002, the government has promised:
• more acute beds;
• the recruitment of the additional nursing staff required;
• the roll-out of promised Primary Care centres to help take the pressure off our hospitals;
• the conclusion of the negotiations with hospital consultants for a new contract and exclusive working by new consultants in the public system; and
• the restoration of A&E services in local hospitals where they have been cut.
None of these promises have been met.
The appointment of Progressive Democrat leader Mary Harney as Minister for Health reveals how little the government is interested in the state's public health service. Harney is no subscriber to equality and is quite happy to preside over a service which sees those who can afford it get the best of care, while the most vulnerable are left sitting on trolleys.
Her 'new broom' is threadbare.
In October, families and friends of people left on hospital trolleys marched to Leinster House in protest. One of the protestors' placards read: "Plan ahead - Bring your own bed."
On that day, the government was given a clear message by the people who elected them.
What will it take before they get off their backsides and put into action their own health strategy?
An Phoblacht Magazine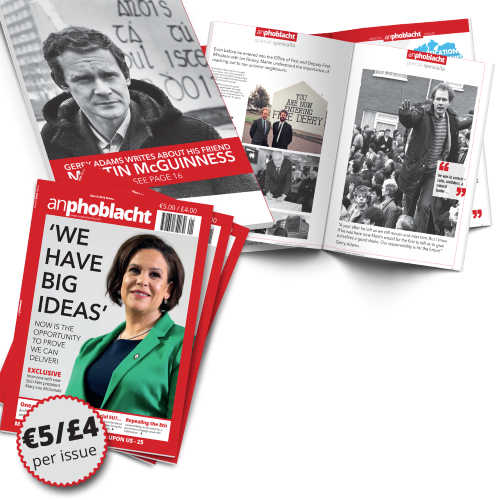 AN PHOBLACHT MAGAZINE:
The first edition of this new magazine will feature a 10 page special on the life and legacy of our leader Martin McGuinness to mark the first anniversary of his untimely passing.
It will include a personal reminiscence by Gerry Adams and contributions from the McGuinness family.
There will also be an exclusive interview with our new Uachtarán Mary Lou McDonald.
test