6 January 2005 Edition
Cancel the debt for tsunami nations
2004 saw many natural disasters, including earthquakes, cyclones, hurricanes, storms and floods, but nothing during the year could have prepared us for the catastrophic tsunami that struck Asia on St Stephen's Day.
The giant waves, sparked by an underwater earthquake, hit with such power that within minutes, over 150,000 people died and millions of people's lives were destroyed. Aid agencies are predicting that its destructive effects will be felt for many years to come.
The majority of people in the countries hardest hit, Sri Lanka, India, Thailand and Indonesia, already live in dire poverty. This is an area of our world where millions die each year from preventable causes such as measles and malnutrition.
People know that the tragedy in Southeast Asia is a global one and needs a global response. But generous as people are, donating money is not enough.
Real and profound change in how governments see the environment is needed.
Urgent action must be taken to cancel the debts of the countries hit. No unnecessary financial burdens must be placed on these people at this time.
This catastrophe has also served to focus attention on our increasingly unpredictable climate. While many natural catastrophes may be beyond our influence, ecologists have been telling world leaders for years that climate change associated with global warming is a disaster waiting to happen. Few governments were listening.
The governments of the first world have known for many years that the political economic system they subscribe to is in the process of destroying everything it touches - the waterways, the air, the soil and human lives. Such is the greed of the system and those who control it that the Kyoto Protocol, set up under the auspices of the UN to agree a mechanism for reducing CO2 emissions, has been constantly undermined, especially by the US.
We don't have to be scientists to know that the destruction of the tropical rain forests, which have survived millions of years, will seriously impact on the delicate eco-balance.
More focus is needed in developing alternative sources of energy to oil and coal. Governments must provide incentives to developers of wind, wave and solar power to replace fossil fuels.
We can't pretend that we can prevent all natural disasters, but we can start respecting and protecting the environment, on which all life on earth depends.
An Phoblacht Magazine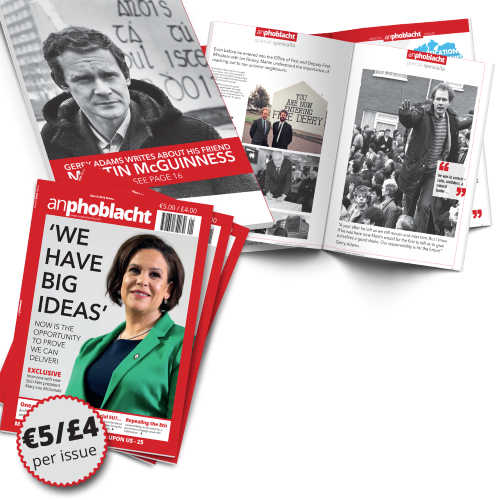 AN PHOBLACHT MAGAZINE:
The first edition of this new magazine will feature a 10 page special on the life and legacy of our leader Martin McGuinness to mark the first anniversary of his untimely passing.
It will include a personal reminiscence by Gerry Adams and contributions from the McGuinness family.
There will also be an exclusive interview with our new Uachtarán Mary Lou McDonald.
test