9 December 2004 Edition
Collusion women on US tour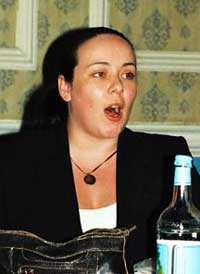 Sharon Pickering (above) from Belfast and Bernice Swift from Fermanagh left on Tuesday 30 November for a gruelling 21-city tour of the United States
They arrived in New Jersey, where they were given their schedule for the next fortnight.
The two women are travelling right across America in order to highlight the issue of collusion. In each state they will talk to a variety of people on this subject, including prominent politicians.
To date, Sharon has met with political representatives in the Rhode Island area. The two women will be in Washington DC on Monday 13 December, where meetings are scheduled on Capitol Hill with Members of Congress and Senators.
"The reason for the trip is to highlight the issue of collusion, whereby successive British governments have been involved in covering up the circumstances surrounding the murders of many of our friends and family," said Sharon. "An Fhírinne believes that the victims of collusion and their families have a right to the truth about the policy of collusion which was sanctioned at the highest political level, and about the true role played by the British state and its agencies in Ireland.
"We want the policy of collusion ended.
"We want the British Government to divulge to the families all the information it has on its policy of collusion.
"We want the British Government to dismantle the structures and agencies which implemented its policy of state murder.
"It is long since past the time for this culture of cover-up to end. It is simply not acceptable for British ministers to be able to suppress vital evidence from the proposed Pat Finucane Inquiry. An Fhírinne fully supports the Finucane family, as we believe only a full public and independent judicial inquiry into the murder of Pat Finucane will reach the truth."