11 November 2004 Edition
Racists must be faced down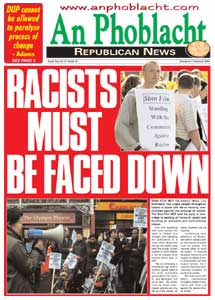 Sinn Féin MEP for Dublin, Mary Lou McDonald has urged people throughout Ireland to stand with ethnic minority communities against the scourge of racism. The Sinn Féin MEP said the party is committed to tackling all forms of racism and building an inclusive and multicultural Ireland.
She was speaking after racist attacks this week in Belfast and Armagh, and following the publication of a report which shows that the last six months have seen the single largest number of racist attacks in the 26 Counties since records were kept in 2001.
"We are witnessing a consistently high level of violence against some of the most vulnerable groups within Irish society," said McDonald. "Let us be clear - the racists must be faced down. Recent attacks are only the tip of the iceberg, as many incidents are not reported.
"Condemning racist attacks is not enough. We need to actively work for the removal of racism from our society. This requires action as much as words. It requires adequate resourcing and support for ethnic minority communities and their support groups. And it requires meaningful partnerships between all sections of society.
"We must stand with ethnic communities throughout Ireland in solidarity with them and against the narrow-minded racists."