10 June 2004 Edition
Everybody's talking
BY JOANNE CORCORAN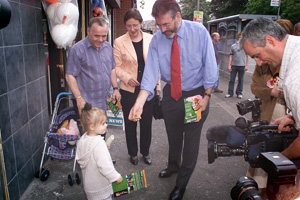 European elections are fought and won in the media. This was David Cullinane's observation when An Phoblacht interviewed him as part of our EU candidate series.
He certainly had a point. When you look at the likes of Pearse Doherty's Northwest constituency, stretching from Donegal to Clare, it's hard to imagine how anybody could be expected to travel extensively in each county, let alone door to door.
That's not to say Sinn Féin's five EU candidates haven't been working the canvass trail. No, even the party's political opponents have begun to describe the famous five as Padre Pios, with their ability to seemingly be everywhere at once.
But, if you take away all the canvassing (which will ultimately get our candidates elected) and rely solely on the media's view of our campaign, things have never looked better. Who could have imagined during the last EU election in 1999, that a headline like "You've got to hand it to Gerry and Mary Lou -—they're not vote spongers", would appear in the Irish Independent just days away from the start of polling?
Let the love-in begin
That very headline, written by Miriam Lord, surfaced on Monday, the day after the Sinn Féin President and Dublin EU candidate canvassed Drumcondra before watching the matches in Croke Park. It was followed by an even more complimentary article, where Lord not only heaped praise on the clever stroke of the giant blue hands exclaiming 'Hello Mary Lou', which were handed out to Dublin supporters, but also compared the party's canvass to its rivals', saying it had a more definite sense of purpose.
Her article wasn't an anomaly. It wasn't a blip on the normally hostile media radar. Rather, it was in keeping with the strange but true barrage of hugs and kisses the media has bestowed upon Sinn Féin of late.
Mary Lou has definitely become a bit of a media darling.
With descriptions ranging from bright, radiating warmth, articulate, impeccable of manner — it would be no surprise if Michael McDowell himself wasn't considering giving her a preference.
Bairbre de Brún has been described as a 'polished performer', an experienced politician, and (shock/horror) possibly in line to top the poll in the Six Counties.
Pearse Doherty has also caught the media's eye. Perhaps it's his youth, perhaps it's his good looks, or maybe it's the fact that he's polling a steady 15% in a constituency that appears to be the most exciting of the five. Whatever it is, Harry McGee and Mary Dundon saw no shame in telling Irish Examiner readers how wonderful he was a few weeks ago.
After explaining his young age, they advised readers to make no mistake: "Doherty is about as experienced, as mature, as worldly-wise as they come."
A later article in the Examiner on the Galway canvass with Doherty and Adams described how one woman, shaking Adams' hand, told their reporter, "I won't wash my hand for six weeks".
Not only is the media predicting massive local election gains for Sinn Féin, but it is also starting the rumour that the party will go beyond taking a Six-County EU seat and will very possibly take a Dublin one, maybe even a Northwestern seat.
John Dwyer and David Cullinane have received their share of cooing. While many spectators accept that the two men probably won't take EU seats, most reporters are queuing up to tell us that they will be the next TDs for their areas.
Small dose of reality
The reason for this love-in is not some mass meeting of journos and editors held earlier in the year where a decision was taken to go soft on the Shinners.
On the contrary, the party has built up an amazing momentum, which the media happens to have caught onto — if a little later than the rest of the country.
But while there have been many articles dripping in honey, like the ones mentioned above, there have also been the usual batch that carry a sharper edge. Their writers know the party's on the cusp of success, but are clinging onto the hope that sense will prevail amongst the electorate.
'Transfers' is the issue that most of these writers are basing their hopes on. Irish Times journalists consoled themselves after their poll last Saturday, which put the party's four southern candidates on excellent percentages, with the opinion that the party never picks up transfers.
How wrong is that? In the Northwest, for example, Doherty picked up 3,000 transfers in the last general election, even more than his first preference vote.
Broadcast interviewers have been equally reluctant to accept the growing sense of confidence that this will be the party's biggest election yet. During RTÉ's series of interviews with party leaders, Brian Dobson fell over himself trying to trip up Gerry Adams with 'hard' questions.
Pearse Doherty got the same treatment in an open-air interview the following night, when the reporter brought up all the old chestnuts of Sinn Féin calling for neutrality while supporting a private army, and so on and so on.
But experienced journalists such as those on RTÉ should know by now how well the Sinn Féiners respond to this type of interview. Adams and Doherty handled themselves magnificently, dealt expertly with every question, managed to get the party's politics across, and left the interviewers looking like rottweilers with no teeth.
Long live the right to free speech
Of course, much of the coverage in the run-up to this election has been like a blast from the past.
Political opponents are at a loss to explain Sinn Féin's success and papers are reporting their views on the inexplicable phenomenon.
"Ten years ago people would have laughed at the notion of Sinn Féin being able to get a stake on county and city councils throughout Munster. But no one is laughing now," one bewildered Fianna Fáil strategist told the Irish Indo.
Others have been a lot more vocal and a lot less complimentary.
Dublin FF candidate Eoin Ryan's publicity team has churned out press statements week after week slating Mary Lou McDonald and smacking of desperation. Just a few days ago, he called her a Nazi-sympathiser for taking part in a commemoration remembering Dublin republican Seán Russell.
Minister for the Environment Martin Cullen has been flooding the media with his notion that Sinn Féin economics would turn the country into North Korea. Minister for Arts and Tourism John O'Donoghue, in the Irish Times' letters page, accused Sinn Féin of fumbling with greasy hands in the tills of rich Americans. So much for consistency.
In the North, the media has carried the DUP's calls for the biggest unionist turnout ever to try and stop Sinn Féin's relentless march to Europe.
The effect all of this is or isn't having may or may not be seen on Friday. Sinn Féin has always insisted that it is the party's hard work on the ground that will see numbers in local government increase hugely after this weekend and get the party's first MEP/MEPs elected.
There can be no denying however, that it's a much nicer feeling to open the pages of a newspaper and see the odd congenial article, as opposed to the usual inaccurate, unsubstantiated, hostile rubbish we're used to seeing.