10 June 2004 Edition
Shaming the nation
BY ROISIN DE ROSA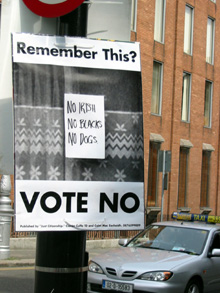 The racist referendum that targets newborns
"The Republic guarantees religious and civil liberty, equal rights and equal opportunities to all its citizens, and declares its resolve to pursue the happiness and prosperity of the whole nation and of all its parts, cherishing all of the children of the nation equally and oblivious of the differences carefully fostered by an alien government which have divided a minority from the majority in the past"
- Proclamation of the Republic, 1916.
Those words bear thinking about, especially when this new 'alien government', of Fianna Fáil and the PDs, are asking the people of this part of Ireland to join with them in voting to cherish some of the children of the nation equally — just the ones who have Irish-born parents.
"Are we to throw away so lightly the delicate accommodation reached in the Good Friday Agreement — which declared that every person born in Ireland has the right to be part of the Irish Nation?" asked trade unionist Inez McCormack. She was addressing a gathering of representatives of 45 groups, many representing a myriad of other community groups, which came together on Tuesday as 'Voices for a NO Vote' to restate why they oppose Friday's referendum. The gathering was organised by the Irish Council of Civil Liberties and chaired by its director, Aisling Reidy.
Undermining the GFA
"This referendum has most serious implications. It would change an international treaty — the Good Friday Agreement, and demean equality and human rights. I've been there. I grew up in a place like that," Inez said. "The Agreement marked the birth of a new society, one based on peace, equality and human rights."
As US Congressman Bruce Morrison remarked in a brilliantly clear consideration of the endlessly shifting, shifty arguments of the Yes campaign, (Tuesday's Irish Times), "the Agreement is the best news from the North since 1921, and it should not be picked apart".
He goes on: "Ian Paisley is right when he accuses the British and Irish Governments of seeking to alter the Agreement, which they said could not be done in other contexts."
Voting Racism?
The Yes campaign has protested loudly at being accused of racism. They say the only ones talking racism is the NO campaign.
But many people who are voting for the referendum believe they are voting to get rid of the blacks from our country. The referendum ostensibly has no bearing on this question — but people believe it does, and they have been encouraged to believe this by canvassers on the privacy of the doorsteps.
It won't, nor should it, but people believe it will. They are voting race.
As Aisling Reidy described in a radio programme on Tuesday, and other people who leafleted the Croke Park matches last Sunday learned, to their chagrin, those who are determined yes voters were voting quite simply because they want rid of 'these people'.
"Send them all home," they said, with rage and hate in their manner. "They are just abusing the system." The language was worse, the import the same — the threat to those who thought differently clearly understood. Such is the irresponsibility, if not deliberately inspired racism, of this referendum.
Closing a 'Loophole'
'No, no," say the proponents of a Yes vote. "We are only closing a loophole - we're talking of 'common sense citizenship'."
But there is no loophole. There is a principle, which has been the law since the foundation of the state, that place of birth determines citizenship, not heredity. The referendum wants ethnic citizenship to replace territorial-birthright citizenship.
McDowell alleges his referendum is to 'close a loophole' in the constitution that allows non-nationals who live, and want to live, in Ireland, to have babies here, with the right to Irish nationality. He claims they 'abuse' this right to claim Irish nationality for their offspring.
It is estimated that children born to non-nationals, which includes children born to EU nationals, might have been as many as 548 last year. This represents a mere 2.4% of the total number of births at the three Dublin maternity hospitals in 2003.
A Gerry Adams on a canvass of Dublin on Tuesday pointed out, there are 60 million people, living all over the world, who, along with their children, are entitled to Irish passports. These people are quite free to 'flood' into Ireland, and 'swamp' the maternity units, should they so wish. The referendum has no bearing on this, nor should it have.
What is different about the children of non-nationals? Race, quite simply. The point of the referendum is to exclude certain races dubbed 'non-nationals', a category that did not exist until this referendum.
Endorsing racism
The referendum is quite simply racist because it incites racism. Whether it was deliberately intended to do so is a matter of opinion, but it is not the issue. Racism is a frightening thing. It begins with the most vulnerable, a few babies: just one word, 'citizenship' or 'nationality'. Where does it end?
Paddy Maphosa, a black migrant worker from South Africa, describes the experience of his friend last Sunday morning. Vanie Mashioya, also from South Africa, was severely beaten by six young men in Blanchardstown. They shouted racial abuse at him, attacked him and kicked him so severely that he needed internal stitches.
"It is regular now, every day, I get abuse, racist talk, racist behaviour," Paddy says. "The referendum has made this OK now. What lay dormant, unspoken, shameful, has become acceptable, approved, common. Worse, when and if this referendum is passed, this becomes endorsed by the state."
As Sinn Féin TD Aengus Ó Snodaigh said at the ICCL Press conference on Tuesday, "If you believe in the vision of the 1916 Proclamation and support equal rights, if you voted for the Good Friday Agreement and don't want to see it dismantled inch by inch, Sinn Féin asks you to vote No to McDowell's referendum."