10 June 2004 Edition
Elections will strengthen Sinn Féin's hand
BY JOANNE CORCORAN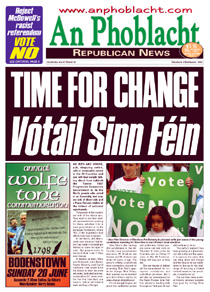 This Tuesday, as the dust settles on the EU and local government elections, the Review of the Good Friday Agreement will resume.
Sinn Féin will hope to enter that Review, with its largest electoral team ever.
Speaking in Dublin at the close of the party's hard-fought campaign, Gerry Adams pointed out that Sinn Féin was on track to return an all-Ireland team of MEPs to Europe for the first time and to make significant gains in 26-County local government.
"The elections also give the electorate an opportunity to strengthen Sinn Féin's hand as we enter what will probably be the most difficult and challenging negotiations since the Agreement," Adams added.
"From canvassing in the north it is clear that people are frustrated at the failure of the two governments, but especially the British government, to implement the Good Friday Agreement in full. However, people are not for giving up on the Agreement and they and we are determined to see the obligations and commitments in the Agreement honoured in full by all participants," he said.
"Our negotiating team has been in intensive discussions with both governments. Myself and Martin McGuinness have taken time out of a very busy election schedule, and I think that shows how earnest we are that things get back on track. I believe we have made progress."
The Sinn Féin chief negotiator echoed these sentiments and added that this time the review process had to be qualitatively different from previous negotiations.
"We need to put in place the modalities and timeframe which would see an early resolution of all outstanding issues," McGuinness said.
"I welcome the announcement that the review process is to recommence next week. But these discussions need to be qualitatively different from that which went before, and to be productive they must be accompanied by an intensive effort to see the political institutions re-established and outstanding commitments honoured."