20 May 2004 Edition
Sympathy is not enough, Bertie - Call a public inquiry now
BY JOANNE CORCORAN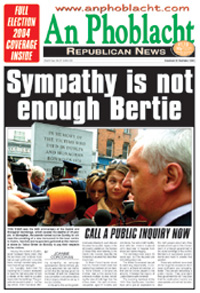 This week saw the 30th anniversary of the Dublin and Monaghan bombings, which caused the deaths of 34 people. In Monaghan, thousands turned out on Sunday to witness the unveiling of a new monument in the town centre. In Dublin, families and supporters gathered at the memorial stone on Talbot Street on Monday to pay their respects to the victims.
Among the crowd in Dublin, stood Taoiseach Bertie Ahern. But the survivors and relatives have had enough politicians' crocodile tears, enough handwringing and more than enough betrayals.
On Tuesday, Sinn Féin TD Caoimhghín Ó Caoláin attempted to have the Dáil adjourned to hold a debate on the need for a public inquiry into the bombings. The government wouldn't allow it. Yet the day before, Ahern had stood offering sympathy, as campaign spokesperson Bernie McNally graciously welcomed him but reminded him that the families would not be fobbed off with the Oireachtas subcommittee's recommendation that an inquiry should be set up in the Six Counties.
At the same time as the government was refusing to even discuss the need for a public inquiry in the 26-County jurisdiction, the families of those killed were listening to the Dublin City Coroner describe the horrendous wounds that killed their loved ones.
Dr Brian Farrell spoke about how the Parnell Street blast had claimed four members of one family. Anne O'Brien, a 22-year-old mother, died at the scene from extensive multiple injuries, including the loss of both legs from the knees down. Her two children, Jacqueline, aged 17 months, and Ann-Marie, 5 and a half months, died with her. Anne's husband John died later in hospital from shock and haemorrhaging.
The bombings took place 30 years ago, but the inquests are only taking place now.
The British Government has yet to admit any responsibility. It continues to withhold information on the role its forces played in the atrocity. It treated the inquiry of Justice Barron with contempt.
The surviving members of the 1974 Fine Gael/Labour coalition have yet to give an explanation to the Irish people about why they turned a blind eye to the involvement of a foreign government in the worst bombings of the conflict. Members of successive governments also need to answer that question.
Those who suffered as a result of the forgotten massacre don't need platitudes and sympathy, Bertie. They are still demanding a public inquiry. They also want their government to tell Tony Blair that his obstruction tactics are unacceptable and will not be tolerated.