8 April 2004 Edition
Support your Easter Parade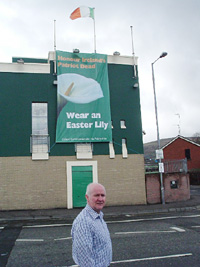 "This year's Easter Commemoration Parades across the country will see bigger numbers than ever marching to remember our patriotic dead," said chair of the National Graves Association Liam Shannon.
Shannon, speaking to An Phoblacht, explained that the Association is making great efforts to contact the families of dead IRA Volunteers and Sinn Féin activists who have been killed in the course of the conflict to invite them to this year's commemorations.
"We want the commemorations to become celebrations of the lives of those men and women who have died in the struggle for Irish freedom," he said.
Shannon explained that the Association, Ogra Shinn Féin and other republicans have held a series of meetings over the past number of months to look at ways of making the annual Easter commemorations more attractive to not only republicans but to all shades of nationalism.
"Easter marks the anniversary of the establishment of the Republic and even though that Republic has not yet been achieved, the process of attaining it is still ongoing," he said. "We still have a lot of work to do and by motivating people around Easter to come out and commemorate our Patriotic dead and the sacrifices they have made we hope to inspire people to take a more active role in the struggle.
The effort being put into this year's Easter commemorations are also being used as the start to the build up of the preparations for the 90th anniversary of the 1916 Rising in 2006.
"We want to ensure that Easter 1916, when the Republic was proclaimed, is centre stage throughout the island in the run up to the 90th anniversary of the Rising," said Shannon. "After all, the limited freedom that people in the 26 Counties enjoy was built on the sacrifices of these men and women, so it should be commemorated by all shades of political opinion. So part of the National Graves Association's project over the next two years will be to get as many people on board to make the 90th anniversary of the Rising as big as possible."