8 April 2004 Edition
Government rejects GM-free amendment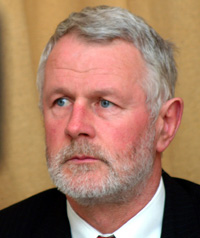 An attempt by the Sinn Féin Spokesperson on Agriculture, Martin Ferris TD, to amend the Bill amalgamating Bord Bia and Bord Glas to exclude Genetically Modified produce from the marketing of Irish food, was defeated on Wednesday morning in the Dáil.
Ferris' amendment would have amended the Bill to define all Irish marketed food produce as "produced according to traditional or organic methods and excluding genetically modified inputs". The amendment had the support of the Sinn Féin TDs as well as those from the Green Party, Socialist Party, and a number of independents. The Government voted against while Labour and Fine Gael abstained.
Ferris said: "I am disappointed at the failure to accept this amendment as I believe that it is crucial to the future of Irish agriculture that our food produce retains its traditional clean safe image.
"Sinn Féin will continue to press this issue and will be calling on the Irish Government to reverse its support for GM prior to the forthcoming meeting of the European Council on April 26 and 27 that will vote on whether to lift the current EU embargo on specific GM products."