8 April 2004 Edition
Bleak black defenders
BY ROBBIE SMYTH
After watching Stuart Carolan's Defender of the Faith the question is why? Why a play about touts? Why a play about rural Ireland, why a play with such a bleak, bleak perspective on life?
Stuart Carolan's Navan Man caricature broke new ground in radio comedy, and as a producer of Today FM's Last Word programme he was a major factor in bringing a fresh outlook to current affairs broadcasting in Ireland.
So with such a track record, it's hard to know where to begin to judge this play. This is partly because it falls into the "Troubles fiction" category, which for some republican reviewers immediately means putting on the safety goggles.
Is the play accurate historically and politically? Are its characters believable and credible? Is there an anti-republican agenda, even a hint of bias maybe?
It is pointless applying the Provo accuracy tests here, (though Carolan does have the know-all Belfast republican down to a tee). Such criteria really aren't relevant anymore, even if they ever were. Republican reviews of related artistic work cannot subject it to some yea or nay attitude.
This doesn't preclude critical comment but the republican community must steel itself for the Vietnam syndrome as more and more artists, writers and film makers mine the conflict in Ireland for material.
Troubles fiction, film and drama has always been problematic in how it dealt with controversial themes, as comment can easily be perceived as passing judgement on the republican struggle.
The interesting and shocking impact of Defender is how, with a decade of peace behind us, the play catapults you back to the war years. This is the strength in Carolan's work. Within seconds of the opening lines, you are immediately enveloped in a conflict-soaked South Armagh.
The use of humour interlaced with foul language and menacing father child conflict in the opening scenes softens the audience's rapid descent into a dire tense and deadly stand off between the protagonists.
Defenders of the Faith has three themes. The first is about political and ideological allegiances and their betrayal. Carolan probes the psychology of informing in all its bleakness.
The second theme raised is about family tensions and conflict, while the third is more of a backdrop to the two core issues. Carolan's portrayal of rural working life is one that is a bleak, mundane and repetitive, more stony grey swamp than soil!
Ultimately there are no laughs in this play. It is shockingly bleak and thought provoking. Is it realistic? It doesn't really matter. This is a good play, controversial, hard to watch but still a worthwhile work. I just hope Stuart never loses this edge when he moves onto other themes in what is bound to be a long literary career.
An Phoblacht Magazine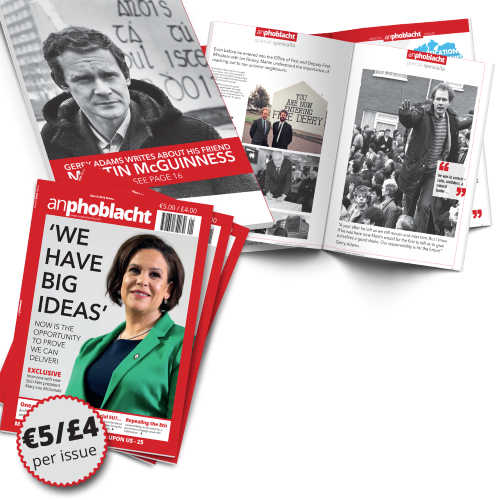 AN PHOBLACHT MAGAZINE:
The first edition of this new magazine will feature a 10 page special on the life and legacy of our leader Martin McGuinness to mark the first anniversary of his untimely passing.
It will include a personal reminiscence by Gerry Adams and contributions from the McGuinness family.
There will also be an exclusive interview with our new Uachtarán Mary Lou McDonald.
test