8 April 2004 Edition
The 'Mill': A threat to Britain's national security
BY JIM GIBNEY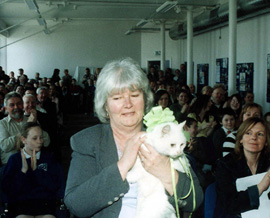 Liberation struggles the world over rely on two very important ingredients: people and ideas.
It is the case that without people and ideas, notions of liberation and progress would not have been advanced and we would still be living in the era of colonial domination by the strong over the weak.
The fact that people were and are prepared to fight, take risks, go to prison and in many instances die for what they believe in secured independence for many countries and people and put the brakes on those who had grand imperialist ambitions.
Another ingredient, which is less obvious but is also an indispensable element, is space.
Revolutionary organisations and ideas by their nature, especially in times of armed conflict, live and exist in places other than the traditional mainstream of life. Alternative space is needed for organisations and their ideas to take root and flourish.
A back room in a two-up two-down; a discreet room in a pub; the outhouse of a barn; a hotel room; any venue that is far enough away from the establishment's prying eyes- all have played their part in our struggle for independence and progress.
In such humble surroundings, deeds of greatness are hatched in times of war and in times of peace.
There are rare occasions in the middle of a conflict when people will risk their lives and invest their time and energy into a project whose very existence is about challenging the status quo.
That is the case with Belfast's Conway Mill, situated in the heart of West Belfast in a community whose record of resistance over the last 30 years is second to none.
Last week, I attended two public events that gave recognition to a group of dedicated and selfless people who have for over 20 years fought to establish Conway Mill as an alternative centre for radical ideas.
The Mill, as it is affectionately known, opened its doors in 1983. Gerry Adams told a group of the Mill's creative writers last week that Belfast republican Tom Cahill came to him and said: "I can buy the Mill. And I want to give it to the people."
Gerry said go ahead and the Mill was handed over to Fr Des Wilson, who Martin McGuinness described at the relaunch of the Mill last week as "the greatest rebel of all".
That rebels should own and work in the Mill over the last 20 years is in marked contrast to its original owners and workers. Fr Des Wilson described the Mill's earlier life: "Irish linen and beautiful fabrics were made here and a lot of people suffered to produce them, especially women."
Gerry Adams, echoing this, commented that the Mill's bosses didn't allow women workers "to speak to each other, to sing or to smile. Many worked in their bare feet."
But it was the Mill's recent history that was being celebrated last week. Its new owners shaped it as a place of "learning, debate, culture and shared experiences".
So, in the midst of the war, when Sinn Féin was banned from the airwaves, when the crown forces and loyalists were killing republicans and Catholics, when political exclusion was the order of the day across this island, republicans and others found refuge in the Mill.
It was to the Mill Sinn Féin turned to hold its press conferences and political meetings.
It was to the Mill the community brought their demands: Obair, with its Public Inquiry into unemployment; a public inquiry into the sectarian killing of Paul Thompson; the McBride Principles' campaign in the US for fair employment in the Six Counties; the Equality campaign led by Oliver Kearney, one of the Mill's champions.
The popularity of the Mill is reflected in a photographic display on one of the newly renovated walls: Sean McBride, former IRA Volunteer, Minister in the Irish Government, winner of the Nobel Peace Prize and founder of Amnesty International; Gareth Pearce, a human rights lawyer who helped the Birmingham Six and Guilford Four; Martin McGuinness, former Minister of Education; Bairbre de Brún, former Health Minister; Bernadette McAliskey, former MP for Mid-Ulster and Civil Rights leader; Fergus O'Hare, leading Irish language activist, teacher and traditional music aficionado; Eilish Carlisle from the Short Strand, self-educated with a teaching degree who taught at the Mill and tragically died young.
And there are many others, less well known but without whom the Mill would not function, notably Elsie, Noelle and Andy the maintenance man.
The Mill was one of the first institutions on the Falls Road to open a daily crèche in the Autumn of 1983. Shortly after this, the British Government denied it funding on the grounds that it was a threat to its 'national security'.
A Community Theatre was soon established, followed by a creative writers' group. Self-help business such as the Falls Taxi Association, employing hundreds of drivers, set up home in the Mill as did many small craft industries. It is here you will find Danny Devenney's wall mural studio.
A day school opened for children who were not comfortable with the education system other children went to. They were learning in the Mill rather than on the street.
Martin McGuinness, who as Education Minister funded the Mill's education project, said it was important to listen to all involved in the education system and that included the children.
To back up this observation, he recalled a remark from a ten-year-old girl: "If I pass the 11+ I will go to a smart school. If I don't I will go to a stupid school."
The political climate has dramatically changed since the time when the Mill first opened its doors. Then its future was balanced on a knife edge. Today, its future is guaranteed.
In many ways, the Mill's fortunes have reflected those of the struggle for Irish independence over the last 30 years.
An Phoblacht Magazine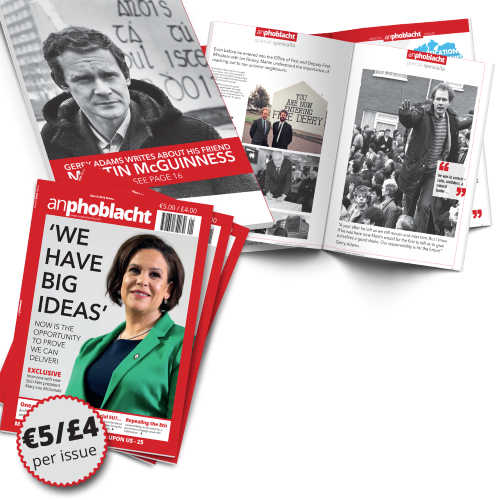 AN PHOBLACHT MAGAZINE:
The first edition of this new magazine will feature a 10 page special on the life and legacy of our leader Martin McGuinness to mark the first anniversary of his untimely passing.
It will include a personal reminiscence by Gerry Adams and contributions from the McGuinness family.
There will also be an exclusive interview with our new Uachtarán Mary Lou McDonald.
test