1 April 2004 Edition
Water charges protest at the Silent Valley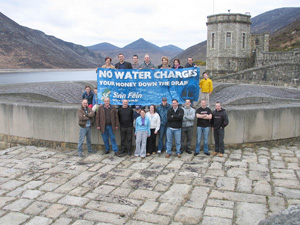 THE Silent Valley and Ben Crom Reservoirs are located in the heart of the Mourne Mountains and supply water for most of County Down and Belfast. Last Saturday afternoon, a number of Sinn Féin activists joined with members of the local community to protest against the proposed imposition of water charges in the Six Counties.
Also in attendance at the rally were South Down MLAs Willie Clarke and Caitríona Ruane and local Sinn Féin Councillors Mickey Ruane and Frank McDowell.
The protest is part of Sinn Féin's ongoing opposition to the imposition of Water Charges by British NIO Ministers.
The implementation of a water charge will mean every household in the North will be forced to pay an annual average fee of £400, which will be ineligible for a rates rebate.
Speaking after the event, Ruane spoke of the importance of resisting a regressive form of taxation that will penalise people who are least able to subsidise the British Government's failure to properly invest in our water services.
"The imposition of Water Charges is not a foregone conclusion," she said. "Across the political spectrum and throughout the Trade Union Movement there is widespread opposition to the imposition of what is an unacceptable and unfair form of taxation.
"At some point British NIO Ministers will have to either admit that they don't care what local people think and that they are prepared to deny the democratic rights of people living in the Six Counties. They will also have to accept they have failed to make any reasonable case for their water tax."
Willie Clarke congratulated the people who turned out to protest and vowed that Sinn Féin would continue to resist the efforts of Direct Rule Ministers to impose Water Charges on people living in the Six Counties.
"Sinn Féin is fundamentally opposed to any form of water taxation, which is the first step on the road to the privatisation of our water services," he said. "We only have to look at how the British Government has handled the privatisation of our electricity supply and the introduction of a gas monopoly to see that they cannot be trusted with our essential supplies. Any attempt by the British Government to impose this unjust tax on the people of Ireland will be opposed at all levels by Sinn Féin."