1 April 2004 Edition
The 5th Column
McDowell's sweet surrender
RTÉ has made the shock claim that the Progressive Democrats Justice Minister, Michael Dowell, has accepted a sweetener from Sinn Féin's Gerry Adams.
Irish News columnist Jude Collins let slip on Thursday a scandal of such proportions that it should have had the puritans at last weekend's PD witch-finders' convention calling for the Criminal Assets Bureau to go through Minister McDowell's pockets.
"In his report for RTÉ News on Tuesday, Northern Editor Tommie Gorman said he has seen Michael McDowell sharing a sweet and a joke with Gerry Adams during a break in talks at Stormont. If that happened — and it does have a surreal feel to it — then both men are to be applauded. To say they have colliding political aspirations would be an understatement, but that shouldn't prevent them treating each other with courtesy and warmth."
But isn't Gerry Adams the 'Mr Big' in PD hallucinations of Sinn Féin as The Sopranos? Indeed, the laboured and hysterical (that's hysterical as in disturbed, not hysterical ha-ha) highlight of the mirthless PDers' weekend was from yet another charisma-challenged local election candidate for Gerry to choose "the path of Eamon de Valera or the path of Tony Soprano".
And now we have sworn testimony from the national broadcasting network that the SF supremo slipped the PD mouth a gobstopper.
We hope it wasn't Gerry's last Rolo. That would be too much to swallow.
'Freed Para Clegg is a wife-beating monster'
NO, that's not our headline but one from last weekend's News of the World. It was about the Parachute Regiment killer who was held up as a victim by the British Establishment after he was jailed for killing Belfast teenagers Karen Reilly and Martin Peake. Clegg was welcomed back into the British Army to train new recruits after serving four years of a murder sentence before the conviction was quashed.
Clegg's policewoman wife is now in hiding in Canada with their daughter after Clegg had flings with three other women and tried to strangle her. "Lee scared me so much I had to leave the country," WPC Julie Clegg said of the Fleet Street hero. "The man I loved turned into a monster who wanted to kill me," she sobbed. "He scared me so much I didn't even feel safe living in the same country."
Clegg's wife recalled that she had loved her husband but told the News of the World "my memory of the Lee I left was of him standing over me after he had tried to strangle me, with his veins popping out of his head, his fists and teeth clenched and his eyes bulging out of their sockets".
Two days before she was due to make her Family Court-approved escape to Canada, Clegg arrived at her home and attacked her. "He said he wanted to kill me and grabbed my throat and pinned me down. I could feel myself passing out and our daughter screaming 'Mummy, Mummy!' Then Lee let go.
Unlike Clegg's numerous other, carefully staged media events by the British Army, there were no senior officers or beaming Parachute Regiment comrades available for photographers.
Queen of Kerry
PROGRESSIVE DEMOCRATS in Kerry have junked the party's liberal pretensions by calling for a formal invite to be made for Britain's Queen Elizabeth to visit Killarney, nominally as a tribute to history but also unashamedly milking loads of euros from the public and paying homage to the all-powerful PD god of Mammon.
PD candidate Kathleen O'Regan Sheppard said it was time, during Killarney's celebrations of its 250-year history as a tourism destination, to "remember its royal links", especially the visit of Queen Victoria in 1861. She said Queen Victoria's visit put Killarney firmly on the tourist map, attracting "the high-spending British tourist".
"As far as we are concerned the visit of Queen Victoria in 1861 gave us tremendous international profile," said Jerry O'Grady, chief executive of the so-called 'Killarney 250' celebrations.
And what a profile 'The Famine Queen' gave Ireland. While the PD aristos long to pay homage to the 'Divine Right of Kings' that perpetuates the anti-Catholic Windsor dynasty, others recall less fondly the legacy of Queen Victoria. The local radio station, Radio Kerry, has been jammed with comments about the PDs' servile suggestion. A text poll showed a vast majority opposed to any invitation to Victoria's successor.
Victorian virtues
ON THE VISIT of Victoria to Ireland in 1900, the United Irishman newspaper wrote on 7 April:
"And in truth for Victoria, in the decrepitude of her 81 years, to have decided after an absence of half a century to revisit the country she hates and whose inhabitants are the victims of the criminal policy of her reign, the survivors of 60 years of organised famine, the political necessity must have been terribly strong; for after all she is a woman, and however vile and selfish and pitiless her soul may be, she must sometimes tremble as death approaches when she thinks of the countless Irish mothers who, shelterless under the cloudy Irish sky, watching their starving little ones, have cursed her before they died.
"Every eviction during 63 years has been carried out in Victoria's name, and if there is a Justice in the Heaven, the shame of these Irish emigrant girls, whose very innocence makes them and easy prey and who have been overcome in the terrible struggle for existence on a foreign shore, will fall on this woman, whose bourgeois virtue is so boasted, and in whose name their houses were destroyed."
For the PDs hankering for Victorian virtues, these must have been 'The Good Olde Days'.
An Phoblacht Magazine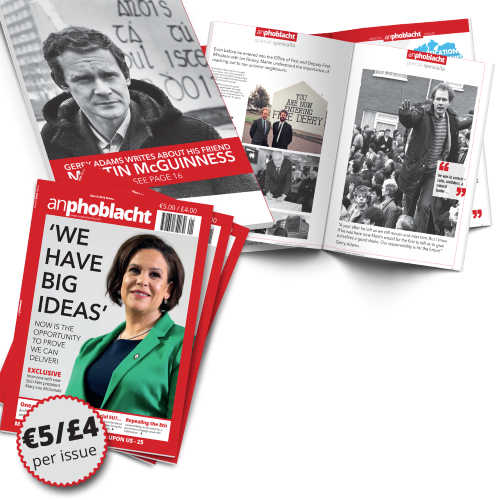 AN PHOBLACHT MAGAZINE:
The first edition of this new magazine will feature a 10 page special on the life and legacy of our leader Martin McGuinness to mark the first anniversary of his untimely passing.
It will include a personal reminiscence by Gerry Adams and contributions from the McGuinness family.
There will also be an exclusive interview with our new Uachtarán Mary Lou McDonald.
test