1 April 2004 Edition
Politics by the back door in Donegal Town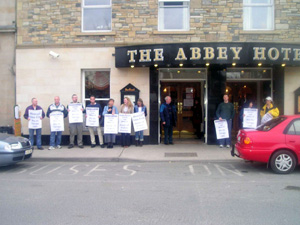 Minister for Social and Family Affairs, Mary Coughlan, last night used the back entrance to enter the Abbey Hotel, Donegal Town, to avoid a silent protest calling for reinstatement of the Social Welfare cuts affecting widows and lone parents. The picket, organised by Sinn Féin Councillor Thomas Pringle, consisted of widows, lone parents and working parents affected by these savage and universally condemned cuts. "Perhaps a better description of this Ministry would be Anti-Social and Anti-Family," said Pringle. The Sinn Féin Councillor says that Social Welfare issues have been raised over the past two years by his constituents, who are having increasing difficulties understanding and complying with new regulations imposed without notice by the department. "I was told by a Social Welfare official that even the officers find it difficult to comprehend the calculations and computations applied to some claims," says Pringle.
The councillor said he was saddened by the Minister's use of 'backdoor politics' in her own Donegal Town when one would expect her to acknowledge her constituents on the silent picket. The demonstration attracted interest and supporting comment from pedestrians, while many passing motorists slowed and beeped their horns in support.
Minister Coughlan acknowledged in the Dáil recently that her own county has the highest unemployment rate in the country — she did not, however, accept her government's responsibility for the economic situation. The lack of infrastructure and job creation in Donegal is a demonstration of Fianna Fáil and the PDs total lack of interest in County Donegal.
"The Minister must realise that the buck stops with her for these cutbacks - and the back door will not always be open for her," said Pringle.