1 April 2004 Edition
One cheer for SIPTU
So SIPTU stayed away from the first day of talks between unions, employers and governments on a new social partnership wage agreement. SIPTU were annoyed, according to their president Jack O'Connor, at comments made by Enterprise Trade and Employment Minister Mary Harney during a weekend media interview.
Harney's assertions that the need for liberalising bus routes and breaking up Aer Rianta was a condition for continued Progressive Democrat participation in government angered SIPTU and led to the 11th hour withdrawal from the talks.
It is good to see SIPTU taking a stand, especially considering the obvious division caused within the union in previous weeks by the cancellation of a one-day mass rail, bus and airport strike.
However, other questions need to be asked around the issue of union participation in the partnership process. This week's talks are happening against a backdrop where there are nearly two million people either working or unemployed in the 26-County state.
Is the Irish Congress of Trade Unions (ICTU), of which SIPTU is a leading member, really representing the interests of all these individuals and their families?
Union support for Sustaining Progress, the last agreement, hinged on the delivery of affordable housing. Where are these houses today?
Added to this are other issues about hospital and general health services, house prices still rising, tax reform still on the long finger, job creation, minimum wages, working conditions, educational inequality, and we could go on. Surely these are the issues on which social partnership should stand or fall.
It has seemed in recent years that we have to resign ourselves to a lot of sabre rattling by unions and employers' organisations during partnership talks. Let's hope that this week's stand by SIPTU is not just posturing but the beginning of a critical and robust engagement that will deliver the beginning of a real social partnership process.
An Phoblacht Magazine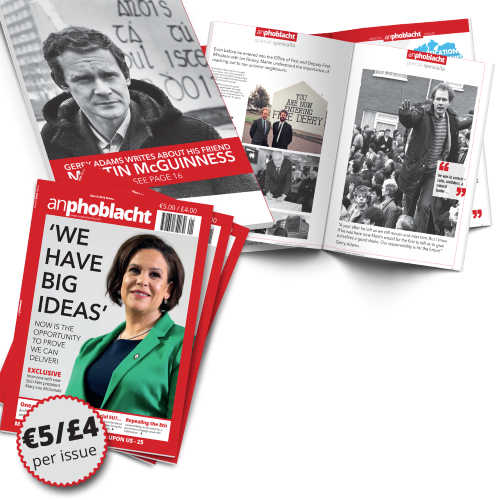 AN PHOBLACHT MAGAZINE:
The first edition of this new magazine will feature a 10 page special on the life and legacy of our leader Martin McGuinness to mark the first anniversary of his untimely passing.
It will include a personal reminiscence by Gerry Adams and contributions from the McGuinness family.
There will also be an exclusive interview with our new Uachtarán Mary Lou McDonald.
test