1 April 2004 Edition
No butts please, we're done with this row
BY JOANNE CORCORAN
Last Monday, to be known from now on as 'Doomsday' by the Irish hospitality industry, I was sitting in the back of a taxi in Dublin, partaking of what turned out to be a very entertaining journey. The news was on the radio, and a reporter had just read a piece about the Irish Vintners' Association declaring a dramatic drop in pub customers only 15 hours into the smoking ban. Both the taxi driver and myself looked at each other quizzically. It was 1pm, the day of the new smoking ban. Pubs only open at 10:30am. In just two-and-a-half hours pub owners had noticed a dramatic fall in customers.
For the love of God, I know we Irish are known as heavy drinkers, but someone will have to direct me to those pubs which are usually crammed to capacity first thing Monday morning. This, I thought, is the beginning. Let the 'We told you so' bitching and moaning begin. Never mind if it turns out that the pubs are actually wrong and their profits don't plummet from astronomical to barely humongous.
The taxi driver, whose name was Peadar, had some interesting insights into the whole debacle. He had two no-smoking signs in his car, but he said he still had a problem late at night when drunken punters would get in with their nicotine crutches, demanding to be allowed to fill his cab with their putrid smoke.
"I say to them, this is my cab, my place of work and you're going to respect me in it," Peadar took pleasure in telling me. Maybe he was exaggerating a little bit — I certainly wouldn't have the guts to speak to a gang of rowdy drunks that way — but his sentiment was admirable. He was a non-smoker himself. He'd given up for Lent eleven years ago and said it was the best thing he'd ever done. His ma, it seems, developed emphysema in the '90s and still suffers with it.
For the rest of the short journey, Peadar and myself amused ourselves by checking out pub car parks along the route. Believe it or not, there were cars parked in them. Might they have been drinkers, I wondered?
Once in town, I decided to engage in some investigative journalism, popping into a pub or two in search of the blowing tumbleweeds and redundant barmen slumped across counters watching the door. I promise you, that wasn't the case. Fair enough, the two pubs I ventured into weren't packed to the rafters, but it was a Monday. There were a couple of regulars propping up the bars as usual, reading their papers, mulling over their pints, and generally filling the pockets of the pub owners.
I considered it my duty to have a drink in one of these pubs, to see if any brawls broke out between the bar staff and crazed, nicotine-deprived customers. None did. I asked the aul' fella beside me if he was a smoker, and if he was fuming over the lack of fumes. Apparently he was, and he wasn't best pleased about the ban. But he was philosophical. He knew smoking was no good for him, even though, he said, he'd been smoking since he was 13. He declined to tell me how old he was — maybe I was rude asking — but I guess he was around 70.
His take on the ban was interesting. The way he saw it, smoking was banned, the way it's been banned everywhere else, and he always knew that one day it would happen.
"I've had friends who died from cancer," he told me. "One boy got throat cancer, that was terrible. He couldn't eat or anything. I've always known smokes are bad for me, but I won't give them up. I'm not giving up drinking either, so what I'll have to do is smoke in one place and drink in another."
He added, "I don't like it". But he obviously wasn't sitting at home and protesting about it either.
So have all smokers always known their day would come to an end — has all the fighting against the ban been the last throes of a dying breed?
I don't want to go on again about the merits of the smoking ban. Only a few months ago we ran an article, carefully researched and written by yours truly, on the issue. But the debate has intensified.
The arguments emanating from the black-lungs brigade became even more selfish in the run up to Monday. Listening to the radio last Saturday, I was amazed to hear one smoker say that the government was risking his health by sending him out in all weathers to have a smoke.
While his friends would be nice and warm (and free from pollution, I might add) inside with their pints, he would be forced to stand in the pub doorway with all the other addicts, trying desperately to light their cigarettes in the rain/ snow /hurricane Hilda.
Give me a break. You're willing to risk cancer, emphysema, heart disease, and all other manner of life-threatening ailments, but you're worried about getting a cold while you do it?
Looking out the window at the pub on the corner across from our office, last night, I was delighted to see a little group huddled outside all puffing like maniacs. "Ha", I said to our editor. "Isn't it bloody great to see them getting their due." Of course, he looked at me like I was the anti-smoking zealot that I almost am, and retreated, scared, back to his desk.
But to explain - I'm not anti-smoking as such. I'm just fed up with smokers thinking that it's their God-given right to blow smoke into my face, and not my right to breathe fresh air. I have asthma (it probably developed when all those chain-smoking neighbours were looking into my pram and exhaling great wafts of the stuff into my newly opened lungs as a baby) and for me, smoky pubs are hell. And anyway, I'm not the only person who has a problem with it, asthma or no asthma.
An MRBI poll commissioned in January found that 73% of people visiting bars in the preceding two weeks of the survey were non-smokers. 26.3% of non-smokers said they would visit bars more often. 38% of all those polled said they would be more willing to visit pubs for a meal. 60% of smokers said they would visit bars as often, if not more so. Only 8.3% of smokers were adamant that they would visit bars less often.
Could it be the case that it's only a small handful of people making a lot of big noise, and it's getting printed because it's backed up by the powerful, wealthy vintners' association?
There are some sensitive issues connected to this ban, for example about the future of the companies that supply and deliver the cigarette vending machines. A complex argument about how you can't please all the people all the time could be had, but for space reasons can't be had here.
As it stands, the smoking ban is in the interests of the majority, and it's far too early to tell if pubs are going to be affected by falling sales. I suspect they won't be, not in the long run. Drink isn't being banned, and let's face it, isn't that the main reason for going to a pub?
So I'm going to enjoy my visits to the pub at long last, and from now on, if somebody's smoking in front of me at a bar, they'd better be on fire.
An Phoblacht Magazine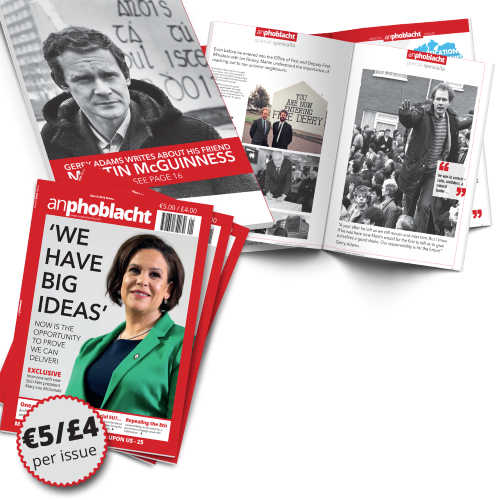 AN PHOBLACHT MAGAZINE:
The first edition of this new magazine will feature a 10 page special on the life and legacy of our leader Martin McGuinness to mark the first anniversary of his untimely passing.
It will include a personal reminiscence by Gerry Adams and contributions from the McGuinness family.
There will also be an exclusive interview with our new Uachtarán Mary Lou McDonald.
test