25 March 2004 Edition
EU must do more to resolve Iraq crisis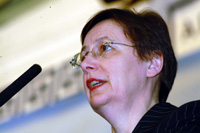 Speaking one year after the start of the war in Iraq, Sinn Féin spokesperson on European affairs Bairbre de Brún has called on the EU to do more to bring about an end to the ongoing occupation.
"Twelve months ago, Sinn Féin cautioned those who advocated military intervention in Iraq," said de Brún. "We argued that military intervention would only further destabilise the country and region, inflame Islamic distrust of the west, and play into the hands of Islamic fundamentalists.
"Sinn Féin also argued at that time that pre-emptive action by the US and its coalition actively undermined the authority and legitimacy of the United Nations. We believed than and we believe now that the way forward must be through dialogue. Tragically, thousands of civilians were killed during the war, and since the official ending of hostilities the civilian death toll continues to rise.
"To date no weapons of mass destruction have been found. Political stability has not been established and democracy remains a distant aspiration. There is clearly a need for the physical reconstruction and restoration of democracy in Iraq to be handed over to the UN as a matter of urgency. This in turn must lead to a speedy hand over of power to Iraqis themselves so they can themselves determine how best to govern their country.
"Incoming Spanish Premier Zapatero has now joined the growing call at government level for greater UN involvement. The EU should now demand that troops be withdrawn and that responsibility for the transition to democracy be handed to the UN and ultimately to the people of Iraq themselves."