25 March 2004 Edition
Real effort needed to put process back on track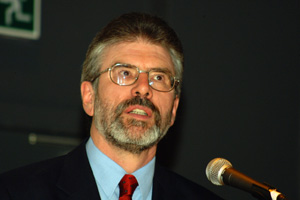 Sinn Féin President Gerry Adams MP was in Dublin on Wednesday as part of a series of public meetings across the city
He said that in talks on Tuesday, Sinn Féin put proposals to the two governments regarding the need for a two-pronged approach to the current difficulties in the process.
"The first involves the restoration of the political institutions and exploration of the DUPs position. The second involves the two governments honouring their commitments. We have also been arguing for a different structure to the Review in order to move beyond the current impasse. I hope that yesterday's meeting and promise of a short, focused approach will be the start of a real effort to put the Peace Process back on track.
"In a significant move earlier today, British Secretary of State Paul Murphy, echoed remarks by the Taoiseach Bertie Ahern earlier in the month regarding the implementation of the October deal by republicans and what Mr Murphy today described as 'substantial decommissioning'.
"Both governments now accept that there was an agreement in October and that the IRA leadership did everything that was agreed and expected and that this was substantive.
"This makes clear that it was the failure of the UUP and the two governments to follow through with their agreed contributions to the sequence that created the political impasse in the process today. It also demonstrates that there is one blockage in the current impasse, which can easily be resolved and that is the outstanding commitments of the two governments.
"The two governments need to immediately implement what they agreed in October and inject the necessary confidence and momentum back into the process."