25 March 2004 Edition
'They're hanging men and women for the wearin' of the green'
BY JIM GIBNEY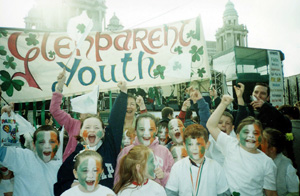 "Hi. Are you covering this press conference"? I asked.
"Didn't know about it."
"OK" I said and the journalist walked off up the stairs towards the City Hall office of Belfast's Lord Mayor.
Ten minutes later, the journalist turned up with a mike and camera as the press conference was ending.
On the fringes of the conference I nodded towards him and asked "Are you covering this?" He nodded surlily. I wondered at his mood.
"What line are you taking?" I asked almost inaudibly. A reasonable enough question, I thought.
"I'm trying to prepare..." I said.
"It's none of your business. I'll not be told..." he said.
"I'm trying to prepare..." I said.
"She doesn't need spin doctors. She doesn't need you to tell her what to say," he said.
"Catch yourself on, what are you on about?" I said.
"There were riots, there were 12-year-olds drinking. There was sectarian abuse. Why was Shane McGowan not taken off the stage? Why was he allowed to drink?"
I tried again. "This was a carnival. Why don't you ask a question about Girls Aloud, about the other groups, about the thousands of people who enjoyed the concert?"
"You'll not tell me what to say. I ask the questions, I ask the questions. You don't tell me. It's my job to ask the questions. I ask the questions."
Was this a Sinn Féin press conference dealing with a perceived breach of the IRA's ceasefire?
Perhaps a Sinn Féin press conference to deal with another batch of republicans discovered in outer Mongolia?
Was this a journalist from the unionist press who had lost the run of himself?
No, this was RTÉ's Tommy Gorman, last Thursday at noon outside Belfast's City Hall. The event: a press conference by Irene Sherry, Chairperson of the St Patrick's Day Carnival Committee.
Her intention was to respond to claims overnight in sections of the media that the Paddy's Day carnival had been marred by a skirmish in Belfast's city centre 45 minutes after the concert was over and an allegation made by independent unionist Councillor Frank Mc Coubrey that the Carnival Committee was responsible for an attack by a crowd on the Lower Shankill almost three hours after the event.
Why the hostility, you may ask? Why indeed?
I normally don't write up private conversations I have with others, especially journalists. But I am not breaching any confidentiality clause, nor is it my intention to dump on Gorman. Gorman's comments are only useful when revealed because they reflect a disturbingly high level of hostility towards the Carnival Committee among sections of the media and unionists.
Gorman might have offered a reasonable explanation for his outburst had I rang him up before I put pen to paper. He might have said he was under pressure, that he was unwell or got out of the wrong side of the bed that morning.
He might also say he didn't know who I was or that he was coming into the story late or, or, or. All of which is possible.
But Gorman, like other journalists in Belfast and elsewhere, is in a privileged and very powerful position. Journalists have a responsibility to be objective and to report with as many of the facts as possible.
This burden weighs heavier on the shoulders of journalists, particularly at a time when a story is controversial and in dispute, as was the coverage of St. Patrick's Day Carnival.
Indeed, it is at a time of controversy that a journalist will be most tested for accuracy, objectivity and truth.
The media's hostility towards last week's carnival can only be understood against a broader political background.
Some months ago, Belfast City Council, which has a slight unionist majority, voted to deny the Carnival Committee funding for their concert. This was the sixth consecutive year they had voted in this way.
The unionist parties had also tried to ban Girls Aloud and the other groups from using rooms in the City Hall to change into their costumes. On that occasion, the Alliance Party, not wanting to be seen to look totally ridiculous, opposed the ban.
The scene was set by the unionists. They were determined to spoil St Patrick's Day celebrations in Belfast's city centre.
It is important to point out that the unionists are not totally opposed to celebrating St Patrick's Day. Last year and this year, they funded very successful concerts and a number of localised events. However, these events are indoor, hidden away from public view and attract small numbers of people and no media at all.
The unionists are opposed to the open display of an Irish cultural identity outside the City Hall, on the main thoroughfare, Royal Avenue, in what was once their capital city in their province, forever Ulster, forever British.
What they cannot stomach is what we saw on our TV screens and in the print media, thousands of people, mainly children and young teenagers, dressed in Ireland's national colours: green, white and orange. It sticks in their craw to see forty shades of green being worn on people's heads, draped around their shoulders or painted on their faces while they are dancing, singing and enjoying themselves in Belfast's city centre.
They cannot live with the reality that almost half the population of Belfast is nationalist and that Sinn Féin is the largest party on Belfast City Council.
Opposition to the carnival extended beyond the council chambers. The 'Northern Ireland Events Committee' who funded the carnival last year rejected an application for funding this year. It is widely believed that the Committee was unduly influenced by the Council's decision. One of the conditions for securing funding from the Committee is support from one's local council.
As I write, an appeal by the Carnival Committee of this decision has not been heard due to the fact that an appeal panel cannot be put together. No one seems to want to be involved in affirming or rejecting the no funding decision.
The day after Paddy's Day, instead of relaxing and patting themselves on the back for a job well done, the carnival organisers found themselves in the eye of a media contrived storm of criticism.
For the Belfast Telegraph it was a day of 'Fun and Shame'; for the News Letter and Daily Mirror's front pages it was 'Rioters on the Streets'. For UTV it was images of Shane McGowan on stage with a pint in his hand being criticised by some parents in the crowd. For RTÉ it was the drunken aftermath of several Paddy's Day events across Ireland and Belfast was set in the middle of a story about dozens of people arrested after the Dublin parade.
The Irish News, which had been favourably disposed towards the carnival and the organisers, couldn't resist joining in the attacks two days after Paddy's Day.
Over two pages they ran a strip headline, 'Violence spoils celebrations' alongside this a photograph of one of the carnival's stewards bleeding from a face wound he got trying to deal with the minor disturbance and two large photographs of McGowan drinking on stage. No less than six stories with subtle and not so subtle digs at the carnival were spread across the two pages.
Local radio stations organised 'phone-ins' for irate callers, mainly unionists who were not at the carnival, to vent their spleen and they did it with gusto.
And while the media and unionist politicians whipped themselves into a frenzy, the loyalists planted a bomb outside a venue in South Belfast and caused the cancellation of a Paddy's Day concert by Shane McGowan. MLA for the area Alex Maskey described the attack as an attempt at mass murder.
It barely got media attention and no unionist politician was motivated enough to condemn the bombing.
Praise must go to the BBC, which covered the carnival as a fun occasion and described McGowan's on-stage drinking in a light-hearted way.
In times gone by, the British hanged the Irish for 'wearin' the green'; now it is the jaundiced eye of the media and the narrow minded mean spirit of the unionists we have to put up with.
However, we've long ago learnt how to overcome such antics and the one thing we can assure those opposed to the carnival is that they're not going to rain on our parade.
An Phoblacht Magazine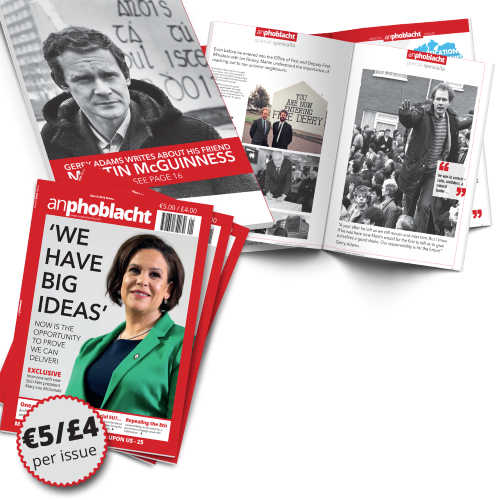 AN PHOBLACHT MAGAZINE:
The first edition of this new magazine will feature a 10 page special on the life and legacy of our leader Martin McGuinness to mark the first anniversary of his untimely passing.
It will include a personal reminiscence by Gerry Adams and contributions from the McGuinness family.
There will also be an exclusive interview with our new Uachtarán Mary Lou McDonald.
test