11 March 2004 Edition
Resistance to change in policing must be overcome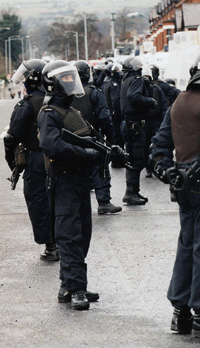 Sinn Féin President Gerry Adams, speaking in Belfast on the eve of a visit to the USA, where he will be attending a series of engagements, including events in Washington on 17 March, said that he expects the US Government will strongly row in behind London and Dublin on the issue of policing.
"We can expect the US administration to follow the Dublin and London line on the current policing arrangements," he said. "I disagree with that line, as do the majority of nationalists in the North.
"It has to be remembered that during the worst years of collusion, torture and human rights abuses, these governments actively defended and praised the RUC, authorised co-operation with it and urged nationalists to join it.
"People have a right to a first class policing service. This does not exist at this time.
"Sinn Féin will continue to work towards an acceptable, accountable police service and I will lobby in the US for support for a policing policy in line with the Good Friday Agreement.
"To achieve this, to achieve the new beginning to policing promised by the Agreement six years ago, resistance to change has to be overcome."
Adams revealed that Sinn Féin has raised a series of major problems on policing with the two governments in recent weeks. He said "these problems need to be solved if nationalists and republicans are to endorse policing".