11 March 2004 Edition
Anderson addresses Barcelona rally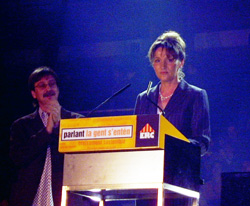 Sinn Féin's All-Ireland Policy Co-ordinator, Martin Anderson, received a rapturous response when she addressed a rally of over 6,000 Esquerra Republicana de Catalunya (ERC) supporters on Saturday night in Barcelona. Speaking on behalf of Sinn Féin, Martina addressed the theme of conflict resolution. She stressed that while no two conflicts are the same, that engagement and dialogue are core principles which should guide all conflict resolution processes. She also pointed out that such an inclusive process is something that the securocrats fear and will work against.
This message was clearly understood by ERC supporters, who recently saw their Secretary General, Josep-Luis Carod-Rovira, forced to resign as First Minister of the Catalan Regional Parliament after Spanish securocrats leaked to the media that he had been in dialogue with ETA. The fact that such dialogue led to ETA announcing that it would no longer carry out operations in Catalonia was a cause for anger rather than rejoicing by the Spanish Government. ERC's willingness to engage with ETA, with positive results, undermined the continuing attempts by the Spanish Government and its securocrats to isolate ETA.
Speaking after the rally, Martina said she was delighted to be in Barcelona representing Sinn Féin and that she hoped the process of conflict resolution would continue to develop. "Our experience has shown that inclusive dialogue is the only way forward and taking risks for peace are essential."