11 March 2004 Edition
Bobby at 50
BY JIM GIBNEY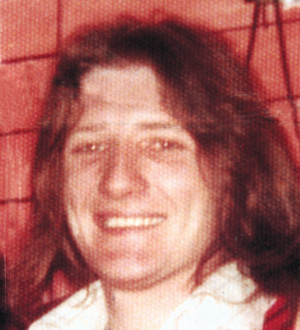 It was 18 December 1980. It was late afternoon. The phone rang in the Mountjoy Square office of the H-Block/Armagh Committee. It was Gerry Adams. In a hushed but firm voice he told me to ring him from a pay phone in the street. I did. "The hunger strike is over. Can you come back to Belfast?" he said. The news shocked me. I had been in Dublin for several months building support for the Hunger Strike and now it was suddenly over. Over without prior warning.
I was at a loss as to what to do, what to say. But I knew it would soon be on the radio and TV news and the people in the H-Block/Armagh office had to hear it from me before they heard it over the airwaves.
We gathered around the office in a sombre mood. These were the people who had campaigned tirelessly, who had helped to build a national movement to support the prisoners' cause over the previous two or three years.
I told them what Gerry told me. There was a mixture of disbelief that the Hunger Strike was over and relief that no one had died; people had tears in their eyes.
Five years of campaigning, six weeks of a Hunger Strike... now ended, confusion reigned.
The following day back in Belfast, I met Gerry in a house in Clonard owned by lifelong republican Alfie Hannaway.
I was shown a comm written by Bobby Sands that had come out of the prison the previous day. The following sentence stuck out: "I will begin another hunger strike on the 1st January." "What? We can't go through that again," I blurted out.
And that was the sentiment, obviously more considered, that I was to tell Bobby the following day. A visit had been arranged for me with him.
Danny Morrison who had been the outside contact for the prisoners during the Hunger Strike had been banned from the jail a few days previously by the British Government and I had been selected to replace him.
I waited in the visiting area for Bobby not knowing what to expect. I hadn't seen him since we were both in the Crumlin Road Jail three years previously.
He literally bounced towards me with a smile on his face and his hand stretched out. I hadn't seen him coming into the visiting area.
He looked tired, his eyes were red rimmed and the years of brutality were obvious in his gaunt features and bedraggled long hair and beard.
With two prison warders hanging over his shoulders, we engaged in an intense conversation.
He was adamant that another hunger strike should begin on the 1 January and that he would lead it. He had others lined up to join him.
I put the leadership's views and he listened carefully, shaking his head in disagreement occasionally. Time up, we embraced and parted company. He was to consider what I said, consult with others inside and communicate the views to the leadership outside as soon as possible.
The next time I saw Bobby he was on hunger strike. I would see him several times before he died.
I reflected on all of this last Friday when I heard that Bobby's 50th birthday would have been on Tuesday past.
I didn't know Bobby any way well. Our paths crossed fleetingly on the outside and the inside. I visited him with his family several times when he was dying on hunger strike.
My memory of him from the days in the Crum, more than a quarter of a century later, is of a man who was a bundle of energy, always thinking, always conspiring, constantly trying to outwit the prison authorities.
We met in cells or prison vans, he was always on his hunkers. I was never sure of his height until I met him a few days before Christmas 1980. He was average height.
Bobby's death on hunger strike, the written works he left behind him, his status as an MP for Fermanagh/South Tyrone, the fact that he led the hunger strike, was the first to die, his youthful, revolutionary image captured in his portrait — all of these facts have contributed rightly to making him a national and international symbol of freedom and justice.
For those who don't know, it is understandable that they see only Bobby and what he stood for. It is enough for them and for us that they are motivated to do good works as a result of admiring the stance that Bobby took.
But those of us who were there or close to events surrounding the second Hunger Strike and who know, should always tell the whole story or as much of it as involves us on occasions like now.
Because 23 years later, on Bobby's 50th, we are not just recalling his heroism, we are also remembering his comrades who also died on hunger strike: Francis, Raymond, Patsy, Joe, Martin, Tom, Kieran, Kevin and Mick and their families.
Bobby is the public face of this group of martyrs and their families. His image embodies each and every one of them because they all faced what he and his family faced — the daunting decision to cross over the line between life and death. His family stood with him as theirs did with them in their time.
In acknowledging, we are not forgetting about Frank Stagg or Michael Gaughan, who also died on hunger strike, or indeed any of the other IRA volunteers who lost their lives in the conflict.
We are recognising that the H-Block martyrs and the struggle for political status there and in Armagh women's prison turned this struggle around, put it on a higher moral plane and pushed us in a new political direction.
On your 50th Bobby, thanks.
An Phoblacht Magazine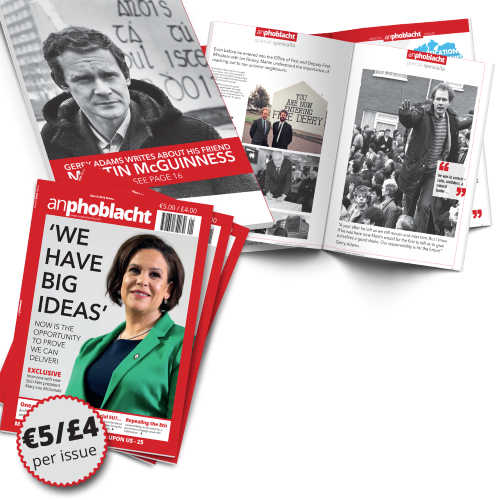 AN PHOBLACHT MAGAZINE:
The first edition of this new magazine will feature a 10 page special on the life and legacy of our leader Martin McGuinness to mark the first anniversary of his untimely passing.
It will include a personal reminiscence by Gerry Adams and contributions from the McGuinness family.
There will also be an exclusive interview with our new Uachtarán Mary Lou McDonald.
test