4 March 2004 Edition
Housing is a right
BY JOANNE CORCORAN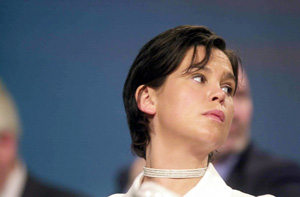 Housing was one of the more emotive issues debated on Saturday. This topic was very popular among many of the younger delegates, who all know first-hand about the housing crisis throughout this island. But it was also addressed by several senior figures, all eager to voice their anger at the problems associated with the issue.
Louth TD Arthur Morgan told the packed hall that housing is a priority with Sinn Féin and quoted the facts about the housing crisis in the 26 Counties — 48,000 families on housing waiting lists, and approximately 6,000 people homeless.
"Prominent among those currently claiming that there is no housing crisis is Minister for Housing, Noel Ahern," Morgan said.
"The Minister has made astonishing suggestions over the last year, claiming that there is only a tiny number of people sleeping rough on Dublin's streets despite the testimony to the contrary from those providing services to the homeless; he has argued that people living in emergency B&B accommodation and sleeping on the floor of relatives houses are not really homeless!
"The reality is that at a time of lengthy social housing waiting lists, some councils such as Dublin City Council, are indicating their intention to withdraw from the provision of housing altogether; the reality is that many young couples are dangerously over-borrowing in order to buy over-priced houses; the reality is that house prices have continued to rise despite government claims that prices are beginning to fall; the reality is that many people in the private rented sector pay over 50% of their wages to landlords because the Government has failed to tackle rack-rents; the reality is that there is a growing homelessness crisis accentuated by the restrictions introduced on housing support measures such as rent allowance; the reality is that traveller accommodation strategies have yet to be implemented."
Dublin EU candidate Mary Lou McDonald said that the party was advocating a human rights approach to combating homelessness and housing disadvantage.
"We are not only committed to enshrining the right to housing in the 1937 Constitution and in a future constitution of a United Ireland, we are committed to delivering this right to housing in real and practical terms for the people of Ireland."
Martin Meehan discussed the drastic housing shortages experienced in the Six Counties, and said that it was essential that a "comprehensive and adequately funded programme of social housing development be instituted as a matter of urgency".
He continued: "The main reason for homelessness in the North is conflict in the home, which represents over 40% of those who approached the Housing Executive, followed by no accommodation within the North (11%), loss of tied/rented accommodation (11%).
"This is compounded in areas like North Belfast by intimidation and sectarian violence. Intimidation accounts for almost 10% of the figures for those approaching the Housing Executive as homeless. Across the Six Counties, unionist paramilitaries have been waging a campaign of violence and intimidation particularly in mixed area such as South Antrim and around interface areas such as North Belfast with the very deliberate objective of creating 'no-go' areas for nationalists by forcing them out of their homes."
Meehan added that nowhere are sectarian inequalities in housing starker than in North Belfast. "The figures speak for themselves. In 2002, the housing waiting list for North Belfast contained a staggering 1,748 applications. Of those applications, over 80% were made by Catholics.
"This is not to belittle the plight of those Protestants who find themselves without decent housing — their rights to adequate shelter are no less than anyone else's. It is to say that in relation to this most basic human right, the discrimination that has characterised the northern statelet throughout its existence has not gone away."
Belfast's Fra McCann called for an urgent review into all aspects of social housing in the North. Councillor Sue Ramsey reminded delegates that housing provision was a catalyst for the civil rights movement in the Six Counties around 35 years ago. "Despite all the progress that has been made since then, inequalities in housing provision remain to this day," she said.
"95% of all new dwellings started in 2002-'03 were commissioned by the private sector. This points up a huge imbalance in the building of social housing. Unless there is a radical rethink about meeting the demand for social housing there will continue to be unacceptable increases in homelessness and increased pressure of Housing Executive waiting lists."
She also paid tribute to the Simon Community for the work they carry out in the homeless sector.
Roisín Ó Súilleabháin from Cork said that, as a young person, she was really feeling the sting of the housing crisis.
"Today, the ability to buy a house has become the exclusive preserve of the wealthy," she said. "I've many friends who'd love to own their own home, but know that they probably never will. An entire generation of young people are being deprived of the right to strike out on their own."
She finished by calling for the restoration of the first-time buyers' grant as a matter of urgency.