4 March 2004 Edition
Going over the Ard at the Fheis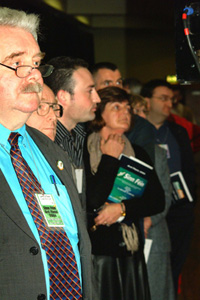 An Phoblacht's ROBBIE SMYTH has been at Ard Fheiseanna as a reporter for the paper and at times as a member of the Steering Committee, who co-ordinate the delegate speaking times, Ard Chomhairle elections and other thankless tasks. This year, Robbie was attending as Sinn Féin General Secretary and reports for us on how he saw the weekend's events unfold.
AND THE BEST SPEAKER IN A NEW SUIT IS...
Did you know that they have professional seat fillers during the Oscar Awards ceremony who take the place of the various speakers, presenters, performers and recipients so that when the camera pans around for crowd shots there are no gaps. Now that is taking event organisation to new levels.
Sinn Féin doesn't as yet see the need for seat fillers, but there are those among the journalists who attended last weekend's Ard Fheis who no doubt think its only a matter of time.
There were a few delegates who thought we should 'mind' seats, while they wandered about, met friends, had lunch, maybe a smoke and then found that their well picked spot for the presidential speech had been nabbed by another more zealous but less important delegate.
REPUBLICAN TINTED VISTA
One of the trying things about republican politics is how two people standing side by side see completely different things. Last weekend in Dublin's RDS I saw a confident but questioning and at times demanding Sinn Féin membership debate and thrash out topics that had been picked by them as worthy of discussion by the party as a whole
Maybe it's a republican tinted vista, but I also thought there was a confident dynamic group of people anxious to meet and talk and share ideas about coming elections and other campaigns, global politics and those small but important details about how are your children, partners, love life, job etc. By Sunday morning this had been distilled (literally!) into who went where for a night on the tear in Dublin.
Walking round the hall over the weekend, sharing words with the attending press corps as well as listening in on their interviews, I realised they had an entirely different world view.
DEFLATED JOURNOS
The prevailing press outlook was how pressurised, how demoralised were the membership after the latest installment in the coalition government's ongoing campaign of 'Shinner bashing'. Vox pops with buoyant, bright eyed, suited Sinn Féin men and women candidates was trying for journos who wanted to ask 'how deflated were you about the Taoiseach's comments'?
One particular RTÉ journalist interviewed six Sinn Féin members, who all told him that, 'No they weren't concerned about McDowell or Ahern', yes they were happy and confident of winning greater representation in the coming elections, and yes they did want to talk about housing, health, education and even protecting skateboarding culture, which was one of the weekend's motions.
But literally none of the weekend press corps wanted to talk about these issues. They did want to share gossip, talk about the stage colour scheme and the presidential speech but not about the political agenda of 2,000-plus republicans gathered to give their views on Irish political, social and economic life today.
If you wanted to bask in backhanded compliments about how slick the Sinn Féin production was, that was just fine. Try to shift the focus and you were in trouble.
SINN FÉIN CONSPIRACY
Trying to have a well organised conference is, it seems, part of the ongoing Sinn Féin conspiracy to take over the world. So you can't say you weren't warned. That the party would run a meeting to hear the opinions of its members seems to be a derisible thought, but that is what the Sinn Féin Ard Fheis is about.
A quick look at the Sinn Féin rules tells you that it is the "supreme governing and legislative body" of the party. So if you weren't prepared to push the boat out for that, what would you do it for?
Enough grumbling, the more important issue is what those of us who might like to think we are seasoned watchers of the species officially known as 'politicus socialismo republicana' thought of the Ard Fheis weekend?
Well after lengthy analysis and pondering, one can only conclude that there are serious changes afoot in the Sinn Féin body politic. It used to be that you could tell the public faces of Sinn Féin from the common activist by the fact that the prospective candidates were the ones with the white shirts and ties for men and fashionable trouser suits or other well chosen gúnas for the women.
Lets face it; republican women have been streets ahead of males for many years in dressing well. And while we're on the subject, telling the Árd Rúnaí he looks like Johnny Cash isn't something easily forgotten or forgiven. I have all your names and cumainn details.
POWER DRESSING
This week, you could be forgiven for thinking you had stumbled on a sumptuous wedding, going by the well turned out membership. This is what the journos missed, the sheer scale of Sinn Féin's electoral ambitions this June. You couldn't turn your head without making eye contact with a current or prospective candidate and that's not already counting already elected MLAs, MPs, TDs and Six-County councillors. Here was a group of people only anxious about one thing — how and when they would take power.
It still doesn't explain why directors of elections, local PR reps and even the odd canvas director all felt the need to dress up. Maybe head office is being left behind in the party trendsetting stakes! More likely, though, is that across the island people are proud to be republican representatives and like to show it.
Also overlooked was the cross section of young and more 'mature 'activists and representatives. We are the sum of our parts and it is good to see young and old debate. There are too many unnecessary schisms in society without recreating them in our party.
There is still a lot to do on gender, but it is clear from the Ard Fheis debate and discourse that a substantial amount of work has been done in this area.
MOBILE MEMBERS
A common thread running through the membership is the umbilical cord that the mobile phone and texting has become. I don't know how many conversations over the weekend were augmented by the second party texting mid-strident point. What are we texting and to whom? Maybe the entire membership spent the previous weekend in the Carphone Warehouse upgrading handsets, because there was a lot of polyphonic, triband colour display phones on view.
Where there is still a mountain to climb, though, is on the question of smoking. Last year, Sinn Féin delegates passed a motion to ban smoking from all party meetings. However, it didn't get much notice in the canteen and registration areas of the Ard Fheis.
It seems that there are still a lot of rebel smokers in the party, but be warned, this is the last year, as other smoking bans come into force and at the next Ard Fheis you will all have to huddle outside if you want a fag.
As General Secretary, one is sorely tempted to move the Ard Fheis date to some cold, wet January weekend just to test the zeal of the republican smoking fraternity.
Finally, we as a party had a good weekend. On the 12 June weekend, after the next elections, we can take stock of how right we were this weekend. It's less than 100 days away and we have yet again a world to win, with a skateboard in one hand and a triband mobile in the other.
Beirigí bua.
An Phoblacht Magazine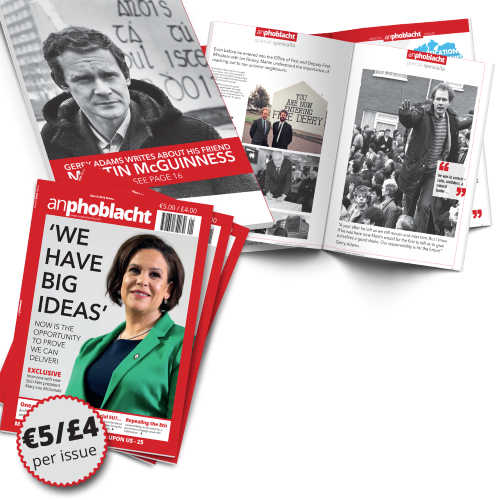 AN PHOBLACHT MAGAZINE:
The first edition of this new magazine will feature a 10 page special on the life and legacy of our leader Martin McGuinness to mark the first anniversary of his untimely passing.
It will include a personal reminiscence by Gerry Adams and contributions from the McGuinness family.
There will also be an exclusive interview with our new Uachtarán Mary Lou McDonald.
test