19 February 2004 Edition
St Patrick's Website launched in Belfast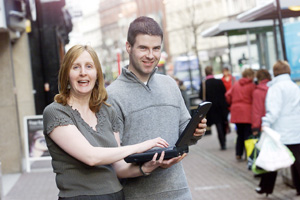 The St Patrick's Day Carnival Committee launched its new website in Belfast City Centre on Tuesday 17 February. The new website, www.stpatricksdaybelfast.com, will act as a marketing and fundraising site for the St Patrick's Carnival Committee, which is campaigning for Belfast City Council to fund an event outside the City Hall on 17 March.
Chairperson of the committee Irene Sherry said the St Patrick's Day concert attracts thousands of visitors to Belfast City centre on 17 March and she hopes the Council will recognise the massive potential the St Patrick's day event has for the city and decide to reverse its decision not to fund the St Patrick's Day Committee.
"St Patrick's Day is celebrated throughout the world and many of those Irish people living in the United States and in other parts of the world will be amazed that an outdoor St Patrick's Day event is not being supported by the council of Ireland's second city," she said.
Sherry added that the website will allow people to sign up to the petition calling on Belfast City Council to fund this year's event and hopefully the website will attract major funding from people who support the work the committee is doing.
As An Phoblacht goes to press, we have learned that over 300 people have already signed up to the St Patrick's Carnival Committees petition.