12 February 2004 Edition
Bogus base closure
This week, the British Army announced they are to close their border base in Aughnacloy.
Good news on the demilitarisation front? Actually no.
The British Army occupy a section of the PSNI Barracks in Aughnacloy. The effect of this announcement will be to remove one small part of the PSNI military fortress in the town.
Moreover, the British Army base in nearby Clogher will remain and the announcement will have little or no effect on troop levels in the area.
Oh, and there has been an increase in British Army harassment in the area in recent months too.
Not exactly the programme of demilitarisation that the British Government committed themselves to in the Good Friday Agreement and in subsequent negotiations since, is it?
An Phoblacht Magazine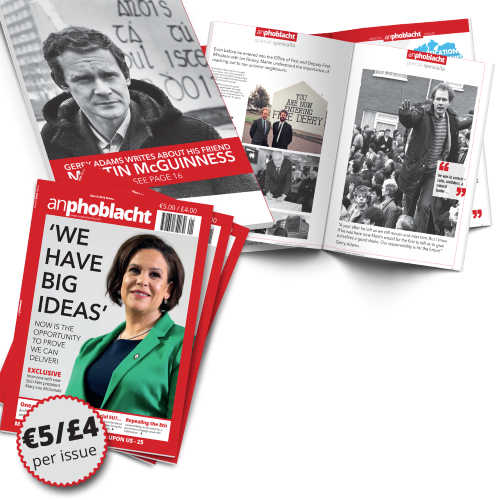 AN PHOBLACHT MAGAZINE:
The first edition of this new magazine will feature a 10 page special on the life and legacy of our leader Martin McGuinness to mark the first anniversary of his untimely passing.
It will include a personal reminiscence by Gerry Adams and contributions from the McGuinness family.
There will also be an exclusive interview with our new Uachtarán Mary Lou McDonald.
test