5 February 2004 Edition
Hume steps down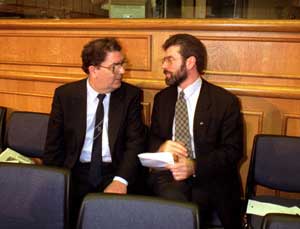 This past Tuesday, former SDLP leader John Hume declared his intention to step down as an MEP, vacating a position he has held since 1979. Hume had previously announced that he would not stand in the next Westminster election.
Citing health reasons, Hume said that while he regretted his decision, he had been "very strongly advised medically" to resign due to the "large workload and travel" that the post requires.
"I am making what, for myself, is a very regrettable announcement today," Hume said this week. "I will not be standing again for the European Parliament. I regret this very much since it is a position that I have very much valued."
"I have been very honoured to represent the people of Northern Ireland in Europe and will obviously continue to do so until June when this parliament ends.
"I would like to express my deep appreciation and gratitude to the people of Northern Ireland and to the members of my own party who gave me their support over the last 25 years."
Last month, DUP leader Ian Paisley declared his intention to step down from the European Parliament, leaving Ulster Unionist Jim Nicholson as the only sitting MEP seeking re-election.
The news of Hume's departure comes at a politically crucial time for the SDLP, still reeling in the wake of their poor showing in November's Assembly elections. It is understood the party will select a European candidate to replace Hume at its annual conference on 21 February.
Speculation as to whom the SDLP will nominate for the post has already begun, with observers suggesting everyone from current Mayor of Belfast Martin Morgan to veteran MP Séamus Mallon.
Gerry Adams paid tribute to the former SDLP leader. "His decision not to stand again marks the end of an era," said the Sinn Féin President. " The SDLP and ourselves have a different analysis and different objectives. But it is to John Hume's credit that he worked with us in trying to find a peaceful resolution of the causes of conflict on this island and between Britain and Ireland.
"He was vilified, of course, but in a short period the Hume/Adams dialogue, as it became known opened up the possibility of a new beginning. This gave all our people hope and led to an agreement that was endorsed by rank and file unionists as well as nationalists and republicans.
"That period of hope is often forgotten now as the peace process stumbles from one crisis to another. But that hope should be a lasting tribute to the finest hour of John Hume and I wish to extend to John and his wife Pat my warmest best wishes for the future."