5 February 2004 Edition
The 5th Column
Peeler done over by Dunseith
PSNI bosses are wanted for questioning but the Peelers are maintaining their right to silence, no matter what inferences law-abiding citizens draw from their suspicious conduct.
The PSNI brass is demanding an apology from the Beeb because Talkback presenter David Dunseith asked Assistant Chief Constable Judith Gillespie "unauthorised" questions. Gillespie was invited in to Talkback on 8 January to talk about attacks on the elderly. But then the devious Dunseith ambushed her with piercing questions about PSNI views on drink-driving figures and kids riding motorised scooters on footpaths! Through gritted teeth, Gillespie objected on-air but eventually broke under questioning by Dunseith. Now the Peelers are piqued by Dunseith's impertinence. Gillespie was said to be "furious" afterwards.
A PSNI accomplice of ACC Gillespie told a Sunday newspaper: "No other senior members of the PSNI will be appearing on Talkback until we receive an apology from Mr Dunseith and his team."
Once a Catholic
THE SECTARIAN HEAD-BANGERS of the Loyalist Volunteer Force are carrying out a purge of Catholics. No change there, you might think, but this time it's among their own ranks, as they hunt out any LVF gangster who was born a Catholic or has any connections to Catholics.
The LVF's Nazi-style internal Taig hunt comes after newspaper revelations that former Lurgan LVF leader Robin 'Billy' King was born a Catholic. King has moved from being a born again bigot to being a born again Christian. And the LVF master race is reeling at reports that two Lurgan LVF brothers were also born Catholics.
Being from a Catholic background and joining the LVF doesn't make sense but then does anyone joining the LVF make sense anyway?
Low-down High Sheriff
WE DON'T KNOW if Sinn Féin would have even considered attending the swearing-in ceremony for DUP Councillor Ruth Patterson as High Sheriff of Belfast, but there were probably a good bit of swearing about her decision to bar the Shinners but welcome with open arms some real desperadoes.
Ruthless didn't want anyone she thinks is connected to paramilitary groups (don't mention the Third Force and Ulster Resistance). So why did the DUP sheriff tell the Shinners to stay out of town while the PUP/UVF and the UPRG/UDA were welcomed like kissin' cousins?
"I don't know if these politicians are inextricably linked to loyalist paramilitary groups, but I know for sure that Sinn Féin is inextricably linked to the IRA."
The 'high' applies to Ruth's title, not her state of mind.
UDR chain gang
RIR SOLDIERS have been parading their UDR hearts on their sleeves in County Antrim.
Colour Sergeant Brian Louden and other old sweats from 2 RIR have been wielding chainsaws to cut down trees that threatened the structure of St Saviour's Church in Kells and Connor, where the colours of the disgraced 1/9 UDR are laid up.
Their confederates, meanwhile, have taken to inflicting themselves on the elderly residents of a local nursing home.
Bingo babe Betty Cameron (83) obviously doesn't mind anyone's company but she better watch what she says to the New UDR. "Bingo is my passion," Betty beams. "Although I love the soldiers, it doesn't mean they'll get an easy time. They still have to beat me."
Careful, Betty, they might just do that. The RIR/UDR have a record of beating people. They're sore losers.
Trimble turns on human rights
DAVID TRIMBLE'S bizarre behaviour reached dizzying heights last week with a high-profile attack on human rights organisations at an international conference. According to Trimble, bodies like Amnesty International and Human Rights Watch are complicit in the murder of innocent civilians!
"One of the great curses of this world is the human rights industry," Trimble said at a Madrid conference on 'victims of terrorism'. "They justify terrorist acts and end up being complicit in the murder of innocent victims."
Trimble (a lawyer, remember) added that he thinks human rights groups are "a great curse".
The Ulster Unionist Party boss never said that before a worldwide audience when he was being given the Nobel Peace Prize in 1998. We hope that right-wing death squads (in Ireland or overseas) don't echo his attack on human rights activists with deadly venom.
Mind your language
TRIMBLE'S Upper Bann UUP MLA colleague, Samuel Gardiner, is foaming at the mouth over SDLP support for the teaching of Irish in Six-County schools.
Gardiner joined the DUP's Paisley Junior and Sammy Wilson in denouncing compulsory Irish in schools as "racist and illiberal". Then he went on to ridicule Irish, saying that all it is good for "is to qualify people to stack turf in the Gaeltacht".
For the record, the SDLP never mentioned "compulsory" Irish but anything Irish doesn't stack up in unionist language.
Big Mac attack
CHRISSIE HYNDE, rocking lead singer with The Pretenders, could be headed for Guantanamo Bay is she doesn't mind her language.
Chrissie answered questions from readers of the London Independent newspaper last week, including this one from Liz O'Donnell (from Luton, not the PDs).
"You famously encouraged us to firebomb McDonald's. Do you regret advocating violent protest?" asked Liz. To which Chrissie replied:
"Well, that depends on what you're protesting about. In the case of McDonald's, we're talking about a company that makes money out of animal slaughter. So you have to steam in there, guns a-blazing. You can't talk them out of it, can you? Sometimes you're forced to use force."
No pretending there.
Academic argument
THE WORKERS' PARTY has placed all the blame for Tony Blair's Westminster parliament victory on bringing in top-up fees for university students on Sinn Féin's abstentionist MPs.
Des 'The Devil' O'Hagan (where have you been, Des?), the grizzled veteran WP leader, grumbled through his Sticky beard: "Their votes would have swung the vote against Blair."
Leaving aside the abstentionist and constitutional issues, on an academic point, Blair won by five votes; Sinn Féin has four MPs.
Despite the fact that he can't add up, Dismal Des is the WP's spokesperson on education.
An Phoblacht Magazine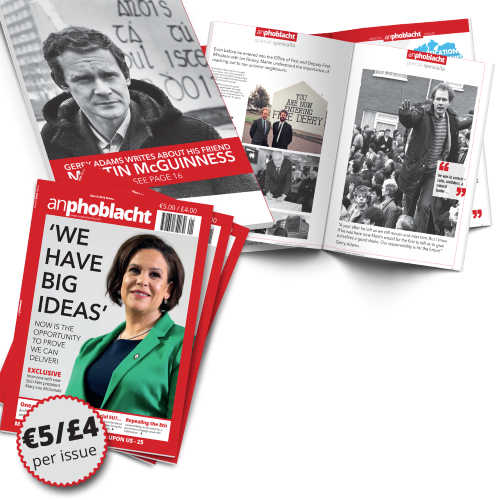 AN PHOBLACHT MAGAZINE:
The first edition of this new magazine will feature a 10 page special on the life and legacy of our leader Martin McGuinness to mark the first anniversary of his untimely passing.
It will include a personal reminiscence by Gerry Adams and contributions from the McGuinness family.
There will also be an exclusive interview with our new Uachtarán Mary Lou McDonald.
test