5 February 2004 Edition
Shame on Church and State
The role of the Department of Education in dealing with the Laffoy Commission is shameful.
Justice Laffoy was appointed to do a job of work and was diligent in bringing to light the negligence of the Department and of the religious institutions, who have been allowed, and it is only barely a figure of speech, to get away with murder.
The Department has failed to provide the support the Commission needed. Instead of being an ally in finding the truth, it has been an obstacle, whose files have to be torn from the hands of civil servants.
Where there should have been cooperation, there was outright opposition. The Government wasted €650,000 in preparing what was deemed to be an inadequate response last June to the committee's order for discovery.
Reading the reactions from the survivors' lobby groups to the most recent report, they seem to be unanimous on one issue; they all believe that the Department's position is no longer tenable.
The conflict of interest between the Department and the Commission is such that it must surely be clear by now that the Department cannot continue to be the body that provides the funding while at the same time fighting the Commission every step of the way.
The role of the religious orders in this is, with few exceptions, no less shameful than that of the Department. They too have fought the Commission every single step of the way, contesting every fact, disputing even what Justice Laffoy refers to as matters "of indisputable historical fact". If some religious orders are prepared to co-operate, why can't the rest, when the Government has already made them exempt from paying any more than €128 million?
Between the religious orders and the Department of Education, we have what almost appears to be collusion in making it as difficult as possible for the Commission to arrive at the truth.
It is time for Minister Dempsey to go, time for the Department of Education to be taken out of this process.
Whatever shards of credibility it had left when Justice Laffoy resigned, it has none now.
While the Department remains involved, the Commission will proceed without the confidence of the victims, the body politic or the people.
An Phoblacht Magazine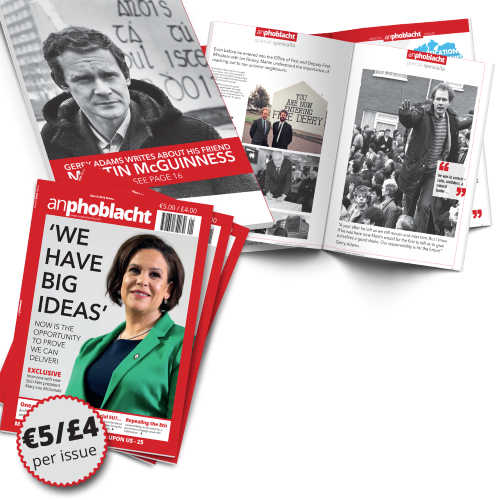 AN PHOBLACHT MAGAZINE:
The first edition of this new magazine will feature a 10 page special on the life and legacy of our leader Martin McGuinness to mark the first anniversary of his untimely passing.
It will include a personal reminiscence by Gerry Adams and contributions from the McGuinness family.
There will also be an exclusive interview with our new Uachtarán Mary Lou McDonald.
test