5 February 2004 Edition
Minimum wage in the 'knowledge economy'
BY ROBBIE SMYTH
Minimum wages and migrant workers - welcome to Ireland's super educated digital new millennium "knowledge economy". But who should be allowed work in Ireland, how much should they get paid and how much help does the government give to support their jobs? This week, at least two of these three questions are on the agenda of employers and workers alike.
The debate is meaningless unless all the aspects of job creation are put on the table. An Phoblacht highlights the inconsistencies in 26-County job creation and wage setting policies.
€7 MINIMUM WAGE
Proclaiming that "it's the economy stupid" might have been one of the crucial factors in the 1992 election of Bill Clinton. It has also become a truism, but what does it mean? One way of interpreting it is that when it comes to economic policy the best measure of government is how many jobs did you create and how much money did those workers earn.
It also raises another important question. How do we as a society treat each other in the workplace? How much money should we expect to earn for any particular job and who should be working where and how much input from government should they expect?
This week the minimum wage hit €7 an hour in the 26 Counties, with the predictable moans from employers' organisations.
You don't get the €7 if you are a trainee, under 18 or on a long-term apprenticeship. If you worked 40 hours a week for the minimum hourly rate, your annual income would only be €14,560 or roughly half the annual average wage paid in the state. Yet for tens of thousands of Irish workers, €7 an hour is their lot.
ECONOMIC MIGRANTS
The other worker-related news is that Ireland stands with Britain as the only two EU member states prepared to let workers from the other new ten accession countries free entry to our labour markets.
Ironically, it is on May Day, the international workers' holiday that these ten states become EU members, yet their workers will not be allowed free movement into France, Germany, Spain or Italy until 2011.
The rest of Europe is saying No to migrant workers and it is fitting that Ireland is open to the workers of the world for two reasons. The first stems from our own history of colonial exploitation and emigration.
It might sound like a cliché to talk about how the United States and Britain, as well as Australia and other states, became a home for millions of Irish workers, but there can be no denying its veracity.
Up until the 1990s, Irish workers were working their way across Europe and North America. Strange then, that is only when our economy begins to grow that we start to think about stopping migrants entering our labour market.
BEGGAR THY NEIGHBOUR
The second reason is that the economic success of the tiger decade was based on a 'beggar thy neighbour' economic policy. This is not unique to Ireland. We grow our economy by exporting more than we import and by luring transnational companies to site here rather than somewhere else.
The IDA, Enterprise Ireland, Údarás and Shannon Development all spend considerable resources annually to keep our economy topped up with exporting firms, whether they are indigenous or multinationals.
Much of the job losses experienced in the Irish economy over the last three years have been as a result of the downside of this process, as the firms shutting are often moving to other lower cost locations and so the cycle continues. We read of Irish software developers based in India and in recent weeks a call centre moving to Poland, one of the new EU entrant states.
IDA JOB LOSSES
So what we have in reality is an economy driven by different and often conflicting flows. According to the Central Statistics Office (CSO), we have 1.8 million people working in the 26 Counties, with between 92,000 and 170,000 people unemployed, depending on which measure you believe to be more trustworthy.
The development agencies already mentioned, such as the IDA, support 297,000 jobs, meaning that the vast majority of workers are in companies not getting economic development grants.
In fact, the number of IDA and Enterprise Ireland jobs in the economy fell last year. The IDA ended 2003 with 128,993 jobs in its client companies, down 3,011 on the year. During the same year, the agency spent just over €90 million on grants, not counting the expenses of running the agency. Last year, the government put the cost of a creating an IDA job at just over €13,000.
LOW PAID
The link between these subsidies and grants and low paid workers is that there are tens of thousands of Irish workers stuck on the minimum wage who need the state to take an interest in their jobs and working conditions.
Many low paid workers need to be able to retain secondary social welfare benefits such as medical cards, children's dependent allowance and rent supplements in order to break out of the poverty trap that badly functioning labour markets and government mismanagement have put them in.
It seems that the Dublin Government cannot find €13,000 per worker for this work yet they can for "knowledge economy" jobs. This double standard permeates the economy. We have one group of super-educated workers in the high tech, high profit sectors and then we have the workers who feed them and clean up after them and work in the shops where the high paid workers spend their disposable income.
300,000 migrant workers have come to Ireland in the past six years and 75% are in low paid jobs as more Irish workers move up to the higher income professions. It would be comforting to think that all the minimum wage workers are just students working their way through college. Yes, many workers fall into this bracket, but alongside this are thousands of full-time minimum wage workers, fathers and mothers struggling to raise families. Is this what the knowledge economy is supposed to be?
265 MILLION WORKERS
The ESRI estimates that there will be 1.96 million people at work by the end of the decade. The aim of government policy must be to ensure that all of these have a decent living wage, no matter what their job.
In the EU, there are 14 million people unemployed, with 175 million at work. The ten new member states will add another 73 million to the total. The goal here should be the same as in Ireland. Make sure all workers have a decent living wage. The economy is the sum of its parts and having a high tech internationally competitive EU means nothing if we have poorly paid workers.
Enterprise, Trade and Employment Minister Mary Harney is uniquely placed during the EU Presidency to make the case for a Union-wide employment and wage policy. We need an end to the beggar thy neighbour economics inside and outside the EU. It all seems too simple really.
An Phoblacht Magazine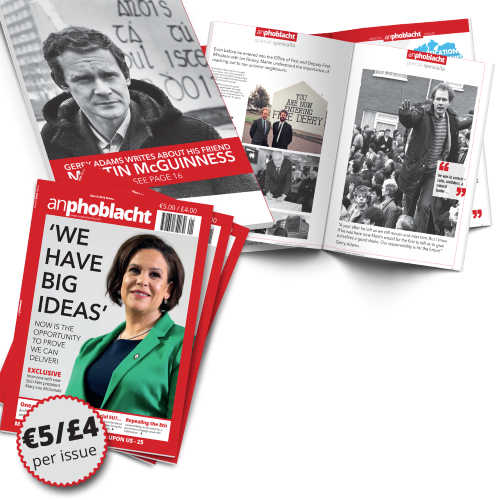 AN PHOBLACHT MAGAZINE:
The first edition of this new magazine will feature a 10 page special on the life and legacy of our leader Martin McGuinness to mark the first anniversary of his untimely passing.
It will include a personal reminiscence by Gerry Adams and contributions from the McGuinness family.
There will also be an exclusive interview with our new Uachtarán Mary Lou McDonald.
test