5 February 2004 Edition
Irish volunteers build homes in South African township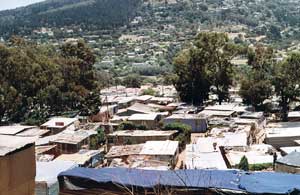 Poverty — you have never seen the like of it — tiny shacks, one after another, 'housing' a million people or more, stretching for miles across Cape Flats, stretching as far as the eye can see, and beyond, little shacks made of hardboard, of corrugated iron, strips of wood, with black plastic bags to keep the rain out. There are narrow paths through the reddish earth, which flood in the rains, no running water into the shacks, no sewage out; cooking by little paraffin primers, electrics by 'illegal' hook-ups to the power lines - so infinitely dangerous when the hook-up shorts and the houses catch fire. The most is to save your life, the children, and perhaps grab just a few of the very few possessions you own.
Apartheid — years to reverse
The men came here to get work years ago during Apartheid. When their wives came, they were arrested and imprisoned and then returned back to the 'homeland'. It was vicious, brutal and cruel. The prison for the wives is a well built building.
Into this sea of deprivation, of injustice, came 150 Irish builders just before Christmas. They had paid their fares, collected money for their trip, given ten days of their labour free to build two-room houses, with kitchen and bathroom, running hot water, and connections to a sewage system — when it comes.
They worked in teams: brickies, plasterers, roofers, plumbers, electricians. Nineteen were women. They worked long hours in very hot mid-summer sunshine, and they completed between them 26 houses in the 12 days, for the future owners who stood by in tears of delight at getting a house to replace their shack.
Irish millionaire
Niall Mellon, an Irish developer and builder, whose multi-million business empire includes the Henry Grattan pub on Baggot Street, a number of hotels around the town, and building projects in 12 British cities, organised the project. He put a million in, which enabled interest free loans to the people. More was collected to pay for the houses, with 25% support from the South African Government. In the township of Imizano Yethu, where an estimated 12,000 people live, he plans to build 1,500 such houses.
His story is extraordinary. He visited Hout Bay, an area by the seaside, full of gleaming white modern apartment blocks, with tiled bathrooms, marvelous views over the great big waves of the Atlantic Ocean. Mellon bought a summer house there, at the foot of Table mountain. It is a paradise of luxury and gleaming wealth, where white faces and red Ferrari cars chase back and forth for show along the fashionable parade.
Imizamo Yethu is but a ten-minute drive away. Few of the blacks who live in the township have anything like a job, many never received any education, many do not speak the languages of the business sector, English and Afrikaans. It is said that one in three have AIDS, a generation between children and the older people who are left to struggle to bring them up. There are no records of the inhabitants of Imizamo Yethu. AIDS figures are only estimates based on deaths.
Under the Job Reservation Act of the Apartheid system, blacks were not allowed to acquire the building skills they so badly need now, like painting or carpentry. Part of this voluntary project was to try to train some township people in some of these building skills. But they also worked flat out to build the houses they had set as a target.
All Ireland
In December, 150 Irish builders, from all over the country, landed into the Sheraton Hotel, Capetown, where accommodation was provided free as a contribution to the building project. Their arrival coincided with Nelson Mandela's visit to attend the fundraising concert against HIV/AIDS.
The Irish builders, hot off the plane, rushed to the entrance hall to be among those who greeted Mandela. Gerry Nolan, the heart and soul of the party, from Roscommon, rushed forward to shake his hand, saying "How's it going, Nelson?" followed by a long pause, then, "That's a beautiful stick you have there", until security gents pulled Gerry back into place. "Why did you do that?" the builders asked. "Sure it was my only chance of a lifetime," he replied.
One of the builders was Mick O'Brien, a republican ex-POW, captured on active service in England at the end of the 1980s. He remembered Mathew Phosa coming into Portlaoise Jail on a delegation to talk to the POWs about the cessation and peace negotiations.
Mick visited Robben Island with a troupe of the builders. The guide was an ex-prisoner from Robben Island, arrested as a student leader in Soweto, and who had gone on hunger strike in solidarity with Bobby Sands and the Hunger Strike in the H-Blocks. Mick describes how inspiring his talk about the continuing freedom struggle, and his account of the jail times, was to everyone. Everyone wanted the Bobby Sands jerseys that Mick gave out to people in the township.
Giving hope
Mick tells how the Mayor of Capetown twice came to visit their project in Imizamo Yethu. She said to them that if ever she wondered what all this had been for, then they had restored her faith in humanity. "You Irish volunteer builders have shown that it is possible. It gives us hope."
Niall tells of how Mandela had said that the 150 workers who had come 4,000 miles from Ireland to Capetown were similar to the doctors who came from Cuba in 1994. "We can't solve the problem, of course," Mick points out, "but we inspired them by showing it was possible."
"There was always the craic amongst the builders, an amazing spirit between us all, inspired by the people, the children, their good humour in these terrible conditions of poverty, and the people whose houses we replaced. It was magic to see them into their new houses, something you would never forget."
Future Project
The Imizamo Yethu Township Challenge has a website. Anyone can help with the next visit. To sponsor a house is €5,000, or parts of the house can be individually sponsored, varying from €500 for a bathroom, or windows and doors, or a house roof, which costs €1,500. You can contact the project c/o of the Niall J Mellon Township Challenge, tel: 353 1 495 1800.
Most of the volunteer builders are planning to raise the money and return again this year, to build another few houses for the people.