22 January 2004 Edition
Sinn Féin homes attacked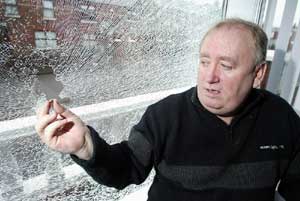 The Red Hand Defenders, a cover name for the UDA, have said they were behind attacks on the homes of two prominent West Belfast republicans on Wednesday night 14 January.
The homes of newly-elected Assembly member Fra McCann and Lisburn Councillor Paul Butler were attacked, with ball bearings fired at the windows.
McCann told An Phoblacht he was working at his computer at around 8pm when he heard what sounded like a shot being fired. "I ran down the stairs and saw the living room window smashed."
The Sinn Féin representative, who has been involved in the campaign to have the British Army spy post on Divis Tower removed, pointed out that "despite the vast array of cameras and other surveillance equipment overlooking this area, the people who attacked my home did so with impunity. This proves that these cameras are not there to protect this community but to spy on it."
Local people who witnessed the attack reported seeing two men firing from the window of a dark Ford Mondeo estate car with an English registration which then sped off along Cullingtree Road towards the Grosvenor Road.
Around 20 minutes later, the home of Sinn Féin's Paul Butler was also attacked with ball bearings. This was the third time in a matter of weeks that Butler's Lenadoon home was targeted.
Butler's 16-year-old son, who was in the room at the time, escaped injury after the living room window was shattered in the sectarian attack.
Now Butler is calling on the PSNI to confirm or deny whether loyalists were involved in these attacks and the many other similar attacks on republicans over the past months.
The PSNI has yet to issue any definitive statement, either on the basis of intelligence or evidence, indicating who is responsible for the attacks.
"The PSNI must put on public record whether or not they believe loyalists are carrying out these attacks," concluded Butler.