22 January 2004 Edition
Impressive and innovative Ógra Congress
BY ROISIN DE ROSA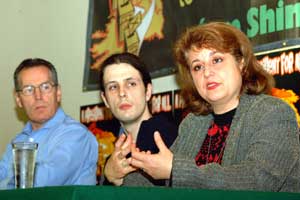 Ógra Shinn Féin held its annual Congress in Dublin last Saturday. Well over 100 delegates attended a very lively gathering of young people from across the country, all engaged in developing Ógra.
It was fast moving, with much politics, and an inspiration for young republicans from different areas, who had the opportunity to meet each other and discuss issues relevant to their lives.
It was an extensive agenda. As well as launching the campaign to extend voting rights in Presidential elections to all Irish citizens, which Ogra will be leading and organising throughout the country this year, they elected a national executive; they passed resolutions determining the direction of Ógra; they held political discussions in workshops on key political areas of republicanism; they took reports from each provincial area of Ireland on their work so far towards building a republican youth movement in Ireland. And they ended with a football match on Sunday.
It was also the first Congress organised by their new national organiser, Mickey Bravender from Monaghan.
Even from the early reports from areas, it was clear that Ógra has taken on a new life in the past year, with groups springing up in colleges and areas all over the country.
Republican former prisoner Jim McVeigh, who has been involved in Ógra work through the year in a mentoring capacity, gave a keynote address to the Congress which set a political context to "shaping Ógra into an effective, revolutionary force - where everyone has a part to play in making Sinn Féin into a revolutionary party.
"Too many times opportunities have come and gone because we failed," he said, "because we had splits, or retreats into militarism, or because we failed to agree the character of our revolution. We need to take time to discuss what this new Ireland should look like.
"We need to take time not only to discuss, but also to read about foreign struggles, to know our history lest it be lost - how it could be that such radically opposite forces such as O'Duffy's Blueshirts could have emerged from the same movement as people like Frank Ryan. We must make sure we know what we mean by revolution in Ireland.
"The numbers of people here today show the strength of the commitment which exists all over the country to this project. It is an important step forward that we are taking today."
Another world is possible
Later in the afternoon, the Cuban Ambassador to Ireland, Teresita Trujillo, addressed the Congress.
She began by remarking how this year was the 45th anniversary of the Cuban Revolution and how it was good to celebrate this in this congress with people who had given such solidarity over these years.
"Revolution is a continuing process, a process of change to improve the standards of living of the people, to take on the economic changes that meet the changing economic needs of the people, to take account of the changing values and aims of the new society we are building," she said.
She outlined some of Cuba's medical achievements - the development of the world's first and only vaccine against meningitis, which sanctions have prevented from being sold on world markets, and the development of a synthetic vaccine against several types of cancer which Cuban medicine has recently developed.
She spoke of new programmes in health and in social welfare, where now two in every five people in need have access to social worker support, people to work with early school leavers to give them opportunity to attain third-level education. She described the education programme in Cuba, where no class has more than 20 students. Teresita also outlined the work to create municipal libraries - all outstanding achievements in a country usually classified as Third World.
She spoke also of recent events, the pressure to isolate and make war upon the Cuban people, the changing situations in Venezuela, Argentina. "We still have many difficulties. The recession in Latin American countries caused recession throughout. Our economy has started to recover from 1995 and we are moving ahead. In socialism, you have to deliver, to deliver a better standard of living for the people."
The closing address to the Congress was given by Gerry Kelly, who reviewed the current situation, and outlined an analysis of where the unionist parties are coming from in the current situation.
He spoke of strategic objectives and how we too must see our struggle as a continuing process of change, of being able to continually assess and review where we are.
He stressed the contradictory nature of the Good Friday Agreement, which although it was never a republican document, included progressive ideas for structures of all-Ireland governance where human rights and equality can move centre stage. There were many questions raised by delegates, ending an important day in the story of Ógra Shinn Féin.
New ways of organising for democracy
I arrived a bit late for the Ógra Congress.
I was amazed. The room was packed with small groups of some 15 to 20 people - from each cúige area - all discussing intently. No one seemed to be leading the groups or doing all the talking. "They are mostly just getting to know each other," I was told.
There were well over 100 young people, and they had travelled from all over the country for first thing Saturday morning. It was impressive to see how many there were.
But in fact, they weren't just chatting party chat. They each had open their background papers, a little handbook for the day that set clear political contexts, with real and critical questions at the end of each page -background to the discussion workshops that were the main item for the day.
Workshops were held on the all-Ireland agenda, globalisation and internationalism, language and culture, youth culture, women in struggle and Ógra's Constitutional position. Resolutions" to the congress, from each area, were split up under these heads.
Some of these questions were: "Ogra - independence or Integration with the broader party? What's your understanding of socialism? Why has republicanism failed to deliver on the issue of women in struggle? What did Cabral mean when he said "If imperialist domination has a vital need to practice cultural domination then national liberation is necessarily an act of culture"?
This was a new way of working. Everyone was taking part; not the usual hierarchical orderings. No one was looking around, bored, tired and excluded: no one was trying to imply they know more than the others and should have more to say.
The new ways of working went on. The workshops had to get group views on the resolutions. Instead of endless boring reports of what people had (and probably had not said), they reported back on what each group thought on the resolutions: if the group agreed, or unanimously disagreed, with the resolution it was put straight to the plenary for a yes or no vote. It the group was split, then they selected a for and an against speaker for discussion in the plenary session.
Topics for the resolutions included civil disobedience, attending the World Social Forum, boycotting the World Economic Forum, getting delegates for local town/district youth councils, getting Gaeilge recognised in the EU, getting religious education off the school curricula, demilitarisation, legalisation of hash, combating racism and sectarianism internally and externally, and taxing people on the basis of their ability to pay and government spending on the basis of their needs.
Some people had done a lot of serious work before this congress, not just organising it, but thinking about it, cutting away endless words to focus on key things people need to agree on, or discuss in a way where everyone understands and can contribute. That is a start of democracy.
No wonder, when it came to the plenary sessions, the launch of the President for All campaign, and the address by Gerry Kelly, that people were jumping in with questions, stuff they thought, questions they wanted answered. It's a lesson to everyone who has to organise meetings on how to do it.
A sign of things to come? Take the lesson now before they pass you by!