22 January 2004 Edition
Government's ideological vandalism
The decision by SIPTU workers to call off industrial action planned for this week has pointed out that the flexibility and willingness to negotiate shown by workers is in stark contrast to the intransigence shown by the Government.
The workers have given a breathing space for resolution of the outstanding matters. In stark contrast to the intransigence and stonewalling of the Government, workers have shown themselves willing to put the needs of the travelling public first, willing to be flexible and willing to negotiate. But Minister Brennan should take note that the action has been deferred and not abandoned.
The Transport Minister should take a leaf from SIPTU workers and act in the best public interest and abandon his incoherent and sketchy plans for the break-up of Aer Rianta. This Government is set on pursuing a right-wing agenda in undermining successful publicly owned businesses in an act of breathtaking ideological vandalism.
Foremost in the assault on the public sector is Minister Brennan and he should take the opportunity afforded by SIPTU to come to his senses before it is too late.
SIPTU workers have been the target of a vicious smear campaign by sections of the establishment aimed at undermining their legitimate case. They may yet be forced into industrial action by a Government more concerned with confrontation than negotiation.
An Phoblacht Magazine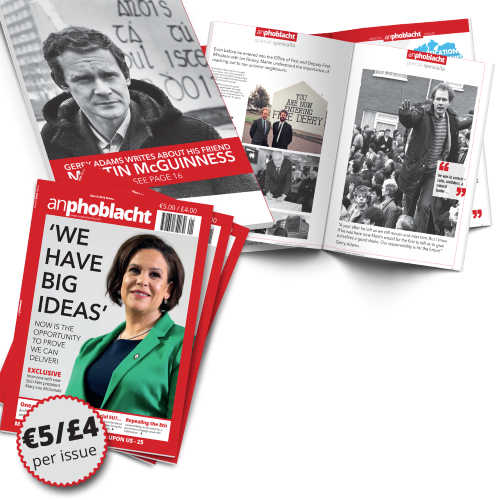 AN PHOBLACHT MAGAZINE:
The first edition of this new magazine will feature a 10 page special on the life and legacy of our leader Martin McGuinness to mark the first anniversary of his untimely passing.
It will include a personal reminiscence by Gerry Adams and contributions from the McGuinness family.
There will also be an exclusive interview with our new Uachtarán Mary Lou McDonald.
test