22 January 2004 Edition
We're not the party of brown envelopes
BY Paul O'Connor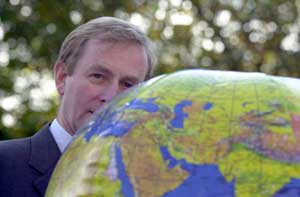 If Sinn Féin received a Euro for every time it's been called "the richest political party in Europe", it would soon be, well, the richest political party in Europe. And if only a part of the recent allegations about the supposed funding of Sinn Féin by the IRA were true, it would probably be the richest political party in the world.
Were some recent commentary accurate, Sinn Féin would account for a significant proportion of Irish GNP, while around one in three of the country's workforce should be finding employment in the party's offices. At this rate, it won't be long before newspaper headlines appear trumpeting "SINN FÉIN TURNOVER DWARFS MICROSOFT'S" or "IRA FUNDS MEAN SINN FÉIN RAISE MORE THAN BUSH". George Bush, by the way, has so far raised almost $200 million for his re-election fund.
Indeed, were Sinn Féin activists to take seriously the allegations about party funding, some might get seriously peeved. What are we to make of a report in this week's Sunday Independent that it is "common knowledge" in nationalist areas of the North that drivers who help out Sinn Féin in elections are paid in cash for their work? Everyone who has ever given a hand transporting electors could be sending their bills to Parnell Square!
On the basis of another recent media report, I calculated that, if all it said about the IRA's funding of Sinn Féin were true, each section of the party should be receiving €2,500 per member per year. For my own cumann, this would work out at €50,000 annually, whereas in fact we have not received so much as a penny! As a result, I feel quite indignant. Somewhere out there, there are obviously Sinn Féin cumainn rolling in untold riches, while we torment our family and (remaining) friends with raffle tickets and sponsorship cards in an effort to scrape together enough funds for the upcoming elections. Maybe we should ask our secretary to write a letter of complaint to P O'Neill...
This latest round of allegation and innuendo was started by the 26-County Minister for Justice some weeks ago, when he claimed the IRA was involved in criminal activities and Sinn Féin benefited from the proceeds. Neither the Taoiseach nor the Garda Commissioner, when given the opportunity, backed up Minister McDowell's allegations. This did not, however, prevent Fine Gael leader Enda Kenny from taking up the baton. Poor Enda gets so little notice taken of him, this must have seemed the perfect opportunity to remind the country of his existence. After attacking Sinn Féin in the Dáil (being attacked by Enda Kenny is a bit like being beaten around the head with a balloon), he went on RTÉ News to warn the party that in the current circumstances, Fine Gael could not consider entering into coalition with us. Now who said Enda Kenny has no sense of humour?
Next into the breach was Gay Mitchel, who said on Prime Time last week "it would be very difficult to include Sinn Féin in government" in the 26 Counties because of "suspicions" about the party. Now I myself have a lot of suspicions about Fine Gael (such as, that they're a lot of stuck-up, old-monied gits with politics and personalities as colourless as their old school ties), but would I even hint at these unless I could offer proof? But "suspicions" were all Gay had to offer. He gave no evidence to support his allegations beyond a reference to the Minister's statement - itself a mere assertion without any proof to back it up.
Thus rumour comes to the aid of rumour, and the claims of anonymous "security sources" are quoted as though they were fact. The whole spurious "debate" about Sinn Féin's funding is a matter of allegation and innuendo, with a good dose of fantasy tossed in for flavour. And it is obvious why these allegations are surfacing now. In a year that will see Sinn Féin fighting crucial elections in the South, they represent - in the words of Caoimhghín Ó Caoláin - "black propaganda against a party that is now presenting a real and concerted challenge".
Given all the talk of Sinn Féin's fabulous wealth, it may be worthwhile to compare its finances with those of some other political parties. As the results of the Assembly elections were declared, a number of (mostly unsuccessful) SDLP candidates sought to attribute their party's defeat to Sinn Féin's allegedly deeper coffers and alluded to it being "the richest political organisation in Europe". The Sunday Independent also suggested recently that Sinn Féin was the best-funded party in these islands.
Sinn Féin - whose accounts are independently audited and available for inspection - had a total income of €1.572 million in 2003. By contrast, during the 2001 British General election alone, the Conservative Party spent £9.3 million, while Labour spent a whopping £14 million. Figures filed under the Political Parties, Elections and Referendums Act reveal this expenditure was largely financed by donations from a small group of wealthy individuals. The Conservatives received £5 million each from John Paul Getty Junior and IG Index Chairman Stuart Wheeler, while Labour received a total of £6.1 million from just three donors, including supermarket tycoon Lord Sainsbury and publisher Lord Hamlyn.
As regards the 26 Counties, the most recent figures for political donations compiled by the Standards in Public Office Commission are those for 2002. In that year, Fianna Fáil received €193,539 from a clutch of property developers and business figures. It should be noted that these figures only include donations over €5,000. In the same period, Sinn Féin received donations totalling €12,348.
In addition to donations from its wealthy backers, Fianna Fáil received €2 million of public funding in 2002 - considerably more than the entire income of Sinn Féin. Fine Gael received public funding of €1.2 million. "The richest party in Europe" has a long way to go to match the financial muscle of the establishment parties in the 26 Counties, never mind that of the major parties of Britain and continental Europe.
The difference between Sinn Fein and parties such as Fianna Fáil and Fine Gael, however, goes beyond the level of funding available. The funds Sinn Féin raises are the result of the hard work and dedication of its activists. Unlike Fianna Fáil and the PDs (or, for that matter, other establishment parties throughout Europe), Sinn Féin has no wealthy corporate backers with chequebooks ever at the ready. Unlike our political opponents, we are in nobody's pocket.
Sinn Féin is not the party of brown envelopes. No tribunals have been set up to investigate the finances of its elected representatives, nor is it members of Sinn Féin who appear in the list of account holders with Ansbacher Cayman. Michael Lowry was not a member of Sinn Féin; neither was Liam Lawlor, nor Ray Burke, nor Charles Haughey.
It is not Sinn Féin that has corrupted the planning system with backhanders and cronyism. It was not Sinn Féin that had a Minister in the pocket of Ben Dunne. It was not a Sinn Féin Taoiseach who closed hospital wards and lectured the people on tightening their belts while he and a golden circle of his cronies salted away untold millions in off-shore tax havens.
For nearly 20 years, from the time of the last Haughey government to the ongoing tribunals, the establishment parties have been hit by one financial scandal after another. And is there anyone who does not believe that this is only the tip of the iceberg? That we could have tribunals to inquire into planning in Cork or Galway as well as in Dublin? The political system in the 26 Counties is fundamentally rotten. Whether by means of illicit backhanders or open donations, the establishment parties are to be bought by the highest bidder. Public representatives are no more than rent-boys to any interest group that pays them.
Sinn Féin is indeed a wealthier party than Fianna Fáil or Fine Gael. We are richer in ideas, richer in determination, richer in the calibre of our candidates and our activists, richer in idealism, in dedication, richer in everything that matters.
Backhanders and sleaze, cronyism and corruption - we leave them to our opponents.
An Phoblacht Magazine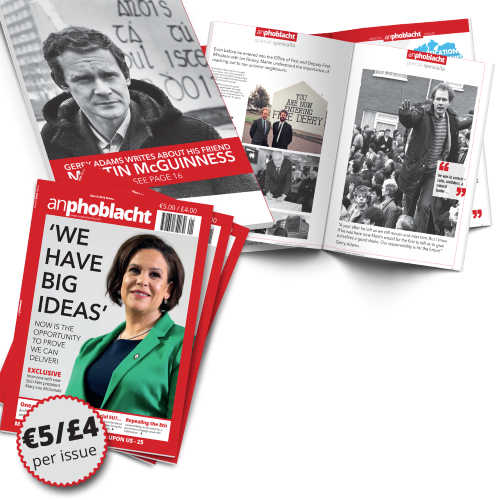 AN PHOBLACHT MAGAZINE:
The first edition of this new magazine will feature a 10 page special on the life and legacy of our leader Martin McGuinness to mark the first anniversary of his untimely passing.
It will include a personal reminiscence by Gerry Adams and contributions from the McGuinness family.
There will also be an exclusive interview with our new Uachtarán Mary Lou McDonald.
test