8 January 2004 Edition
An Independent media? - BY DAITHÍ FORDE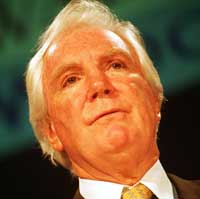 Over Christmas, thoughts turned often to the three Irishmen still being held in jail in Colombia. There was a Christmas card sitting on the mantelpiece at home from Martin McCauley's wife, Cristín, signed 'from Martin, Cristín and family'. Cristín is a woman of much strength and determination, but this was the third Christmas that Martin has spent in jail in Colombia, and even the very strongest get lonely.
Meanwhile, the Sunday Independent carried an article by Conor Cruise O'Brien calling for sentences to be handed down to the Colombia Three, and for the Irish, American and British governments to break off relations with 'Sinn Féin-IRA'. He also called for Section 31 of the Broadcasting Act to be reinstated. This is a man who would set the clock back many years, if only he could. This is a man who in recent years stood for election in the North for the UK Unionist Party and who was a Minister in the infamous Fine Gael/Labour Governmentn of Fitzwilton Holdings, non-executive Chairman of Waterford Wedgwood, principal shareholder in Arcon International and a Director of the New York Stock Exchange. Dr O'Reilly's second marriage to independently wealthy Chryss Goulandris means that the couple's joint net worth is estimated at some €1.8 billion.
Sir Anthony's media group includes the Sunday Independent, Irish Independent, Evening Herald, Sunday World, Belfast Telegraph, Sunday Life and The Star. It owns 30% of the Sunday Tribune, 50% of the Córas cable tv network, and all of the Unison web service. The Group also publishes eleven local newspapers in Cork, Kerry, Dublin, Louth, Wexford and Wicklow. In Britain it owns the Independent and the Independent on Sunday as well as regional newspapers and magazines. It is Australia's largest regional daily publisher and the largest newspaper publisher in New Zealand and South Africa.
Martin McCauley, meanwhile, owns no shares in any multi-national companies. Martin won an action taken against the RUC after being badly injured in a shoot-to-kill incident in 1982. Had he been entitled to a criminal injuries claim, the amount of compensation received would have been far greater. However, Martin was only entitled to sue for 'use of undue force in arrest' despite sustaining severe injuries and permanently losing partial use of one arm.
Martin and his friend, Michael Justin Tighe, were aged 19 and 17 years when asked by a neighbour to keep an eye on her property while she was on holiday. While doing so they noticed the window of her hayshed was open and climbed in to investigate. Without warning, a mobile support unit of the RUC opened fire from within the hayshed, killing Michael Tighe and seriously wounding Martin McCauley. Martin watched the funeral of his friend from his bed in the intensive care unit of Craigavon Hospital before being arrested and transferred to the prison ward at Musgrave Park Hospital.
Assistant Chief Constable of Greater Manchester, John Stalker, was sent to the North to investigate this and other shoot-to-kill incidents. Stalker was continually hindered by the RUC during his investigation. He famously told the editor of the Guardian, Michael Unger, that "policemen are committing murder and I am unable to get to them". John Stalker never got to finish his investigation. He was subjected to a campaign of slander and removed from the investigation.
During this time, Martin McCauley was represented by Pat Finucane. In 1989, Pat Finucane was murdered in his Belfast home. Sir John Stevens reported that elements of British military intelligence and the RUC colluded in the murder of Pat Finucane and others. This was confirmed by a ruling of the European Court of Human Rights in Strasbourg.
Martin McCauley made a submission, based on his own experiences at the hands of the RUC, to the Patten Commission on policing. In return, Martin was subjected to a vicious campaign of harassment by the RUC. A bomb was placed at his home. At this time, Martin was represented by human rights lawyer Rosemary Nelson, who was also threatened by the RUC. In 1999, the same death squads that had assassinated Pat Finucane killed Rosemary Nelson.
The McCauley family moved South following the bomb attack on their Lurgan home. Martin became involved in discussions and debates on conflict resolution. In 2001, he travelled to Colombia with Jim Monaghan and Niall Connolly to observe the Peace Process there. On their way home, they were arrested by the Colombian authorities. According to media reports, the arrests followed a 'tip off' phone call to the Colombian police from the RUC in Belfast — the same discredited elements of the RUC who previously shot him, killed young Michael Tighe and colluded in the murders of Pat Finucane and Rosemary Nelson.
Sir Anthony O'Reilly and Martin McCauley both certainly experienced two very different Christmases. One spent his in a prison cell thousands of miles from home and family. The other could have spent it anywhere in the world, likely surrounded by great finery, having his meal served by the hired help with the finest linen, silver, bone china and crystal. Sir Anthony has led a life of wealth, privilege and influence. Martin has been shot, harassed and imprisoned. Neither men have much in common except that one, through his newspapers, seems to have a great interest in the other's continued imprisonment.
But no wealth or splendour will match the joy that the families of Martin McCauley, Jim Monaghan and Niall Connolly will experience when these men come home in 2004, as come home they soon must, if any justice exists in Colombia.
O'Reilly's newspapers will no doubt energetically continue to denounce all of those who would seek to build an equal society in this country. After all, Sir Anthony has absolutely no interest in an Ireland of Equals. His ideal society exists right now; it is one where the super rich can exploit and dominate everybody else. It is one where he can earn his millions selling newspapers to ordinary citizens, while at the same time influencing their opinions and perpetuating his own reign at the top of the pile.
An Phoblacht Magazine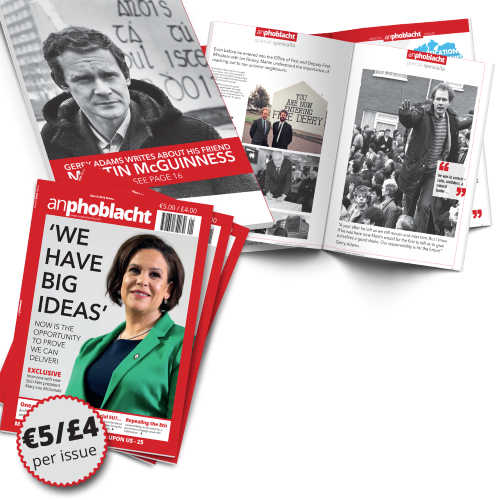 AN PHOBLACHT MAGAZINE:
The first edition of this new magazine will feature a 10 page special on the life and legacy of our leader Martin McGuinness to mark the first anniversary of his untimely passing.
It will include a personal reminiscence by Gerry Adams and contributions from the McGuinness family.
There will also be an exclusive interview with our new Uachtarán Mary Lou McDonald.
test