8 January 2004 Edition
Court told missing man a police informer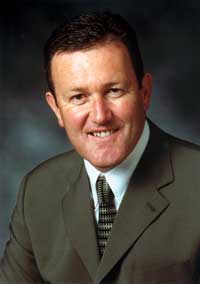 Belfast High Court has heard that the missing Armagh man Gareth O'Connor was an informer working for the PSNI. The allegation was made by defence lawyers acting on behalf of four men arrested in connection with the seizure of a rocket-propelled grenade alleged to have been intended for a dissident attack on crown forces' personnel.
The four men are claiming that they were lured into a field by O'Connor in the belief that they were planning a burglary and were never in possession of the RPG22. Defence Barrister Frank O'Donoghue told the court that the defendants' case was "that Mr O'Connor was acting as some form of police agent".
The barrister said that after luring the defendants into the field, O'Connor made contact with one of the accused. "The police were also in the field and detection took place immediately thereafter.
"The nature of the defence, therefore, is that these men have been the victims of some form of collusion between Mr O'Connor and the police," said O Donoghue.
The presiding judge has already been informed that the prosecution intends to apply for a Public Interest Immunity Certificate to withhold disclosure of certain evidence. The PSNI have said that they believe O'Connor is no longer in the jurisdiction or is dead.
Sinn Féin representative for Newry & Armagh, Conor Murphy, has demanded that the British State disclose the full facts and do not hide behind a public interest immunity certificate.
"In the past, the PSNI Chief Constable Hugh Orde has made public comment on this man's disappearance," said Murphy. "He made a number of allegations claiming IRA involvement in this without providing any evidence. Others have subsequently ran with this line despite a statement from the IRA categorically denying any involvement in the matter.
"In light of today's revelations, Hugh Orde has a duty to lift the lid on this entire case. I am demanding that he disclose the full facts surrounding this case and does not hide behind a Public Interest Immunity Certificate."