8 January 2004 Edition
Bogtrotters on Ben Edar (Hill of Edar)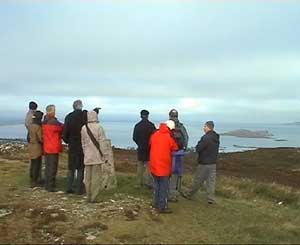 The Tar Isteach Bogtrotters had their end-of-year walk across the Ben of Howth in Dublin, which proved to be a great way of clearing both head and lungs after the easy Christmas living.
Bogtrotters, friends and visitors assembled beside the DART station at Howth harbour, where local historian Joseph Finnegan gave us a brief rundown on the Howth Gunrunning prior to 1916.
We then headed off, passing the gushing Bloody Stream, where it is said the first battle between Dublin Danes and the 'strangers' was fought. Then it was up towards the Deer Park, passing Howth Castle, which is the home of the St Lawrence family since about 1177, who claim to be descended from Tristam, a Knight of the Round Table. The great Granuaile (Grace O'Malley) is said to have come knocking at the door one meal time, was refused entry and in a right huff grabbed the kid and took him off to her West coast fortress. In a very amicable settlement some time later, the kid was returned and an extra place was to be set at table for any unexpected visitor who might chance to visit; this tradition is carried out to the present day.
Next, we visited a Portal Dolman (2500 BC), which is said to be the burial place of broken hearted Aideen, or else they are rocks playfully thrown here by Fionn MacCumhaill from the Bog of Allen, all 90 tons of 'em!
From the highest point (560 ft) on the Head we had a great view across Ireland's Eye, Lambay island, Rockabill and on up towards the Cooley Mountains. Eddy O'Neill then guided us down the cliff walk and on back to the harbour. On the way, we spotted a lobster fisherman feeding a seal and what seemed to be a big group of porpoises chasing fish.
At the end of this very enjoyable few hours' walk and over refreshments in the Abbey, we discussed the planned overnight walk (34 miles) being undertaken by a few of our hardier walkers later this month.
Note. This is a good time to join the Bogtrotters and newcomers are welcome. Contact (01) 874 9990
An Phoblacht Magazine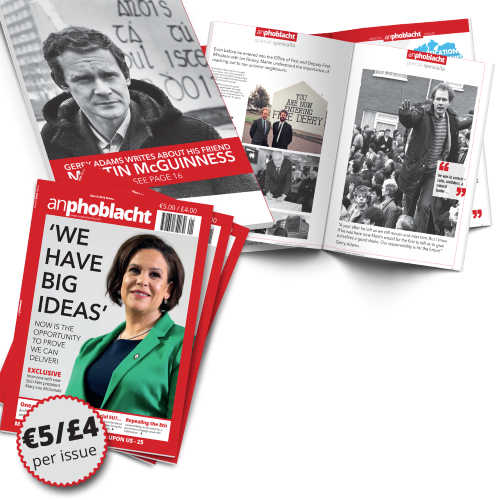 AN PHOBLACHT MAGAZINE:
The first edition of this new magazine will feature a 10 page special on the life and legacy of our leader Martin McGuinness to mark the first anniversary of his untimely passing.
It will include a personal reminiscence by Gerry Adams and contributions from the McGuinness family.
There will also be an exclusive interview with our new Uachtarán Mary Lou McDonald.
test