8 January 2004 Edition
Boundary changes favour bigger parties
The report by the Constituency Commission released on Wednesday has no surprises and is pretty much as expected, which is not good news for smaller parties and Independent TDs.
The Commission was very limited in what it could recommend because of the 1997 Electoral Act, which places an upper limit of five seats per constituency. This effectively discriminates against smaller parties, as proportional representation works better in constituencies with five or more seats.
Instead there are now more three-seater constituencies - including the two new Meath constituencies - which is a big advantage for Fianna Fáil and Fine Gael.
Despite this, Sinn Féin remains confident that the party will greatly increase its Dáil representation next time out.
An Phoblacht Magazine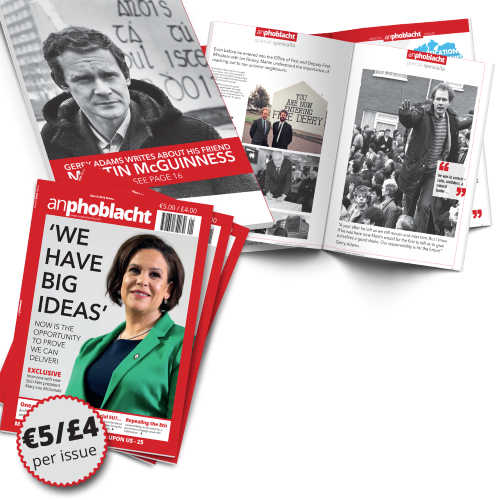 AN PHOBLACHT MAGAZINE:
The first edition of this new magazine will feature a 10 page special on the life and legacy of our leader Martin McGuinness to mark the first anniversary of his untimely passing.
It will include a personal reminiscence by Gerry Adams and contributions from the McGuinness family.
There will also be an exclusive interview with our new Uachtarán Mary Lou McDonald.
test