8 January 2004 Edition
The 5th Column
Going for a gong
CELTIC FC manager Martin O'Neill's acceptance of the dubious honour of being given the Order of the British Empire in Queenie's New Year Honours List (to go alongside his MBE from 1982) should be even more disappointing to one-time fans alongside the revelation in leaked documents that the spectacularly unsuccessful British tennis 'ace', Tim Henman, is ranked alongside the Celtic supremo to "add interest" to a dismal roll call.
Everyone has the right to make a personal choice but, please, Martin, don't claim that you will bend the knee and bow your head before a queen who is the head of an unelected, anti-democratic, anti-Catholic dynasty based on sectarianism, privilege and imperial power for all the fans of Glasgow Celtic.
Recognising the empire honours list for what it does represent (otherwise, why not drop the 'empire' tag and Queenie's involvement?), the black poet, Benjamin Zephaniah, broke the rules and spoke about why he rejected the offer of an empire bauble in the same list as the Celtic chief. Benjamin said:
"I get angry when I hear that word 'empire'; it reminds me of slavery, it reminds me of thousands of years of brutality, it reminds me of how my foremothers were raped and my forefathers brutalised. It is because of this concept of empire that my British education led me to believe that the history of black people started with slavery and that we were born slaves, and should therefore be grateful that we were given freedom by our caring white masters."
That's what the Order of the British Empire really represents.
Twinking the honours system
TALK of honours put a glint in the eyes of glory hunters this side of the Irish Sea and the idea of an Irish honours system was being tossed around in radio debates this week.
On Dublin's Newstalk 106 radio station on Monday, Sinn Féin's noble yet staunchly republican Daithí Doolan, called for a system to recognise the achievements of communities and groups but warned against one being used for government patronage of political donors, the elite and well-heeled TV and pop stars.
Labour Party former mayor, Dermot 'I Backed the Bin Tax' Lacey, jollily demurred and said that he didn't see why we shouldn't honour the likes of Westlife. "But," Daithí, interjected with a withering aside about Fine Gael's panto dame, "what about the likes of Twink?"
That wiped the smile off their faces.
Barking mad
AS WE REEL from the revelation that Britain's Princess Diana believed she would be murdered by the head of a vicious gang of professional killers — her husband and Colonel in Chief of the Parachute Regiment, Prince Charles — another top dog in the royal family is seeking psychiatric help for homicidal tendencies.
Florence, Princess Anne's pet bull terrier, is being sent to see a shrink to save the savage from being put down after the monarchist mutt attacked a royal maid and fatally mauled one of Queen Elizabrit's beloved corgis.
Animal psychologist Roger Mugford said he expected to begin work with Florence, the bull terrier, this week. Mugford said he believed the attacks were related to an underlying medical factor rather than basic aggression.
"I am sure it is just a dog who is feeling a bit out of sorts about something, perhaps pain or old age, and is feeling a bit cranky on the day."
Old age and being cranky, eh? Could be possible grounds for an appeal by that other royalist 'Mad Dog', Johnny Adair.
Echo of war
THE CONTRASTING VALUES that the British Establishment places on animals and people is shown by the demise, just before Christmas, of a horse injured in the 1982 IRA bomb attack on a mounted troop of the elite Blues and Royals Household Cavalry.
Echo, a police horse escort, was injured in the attack. Four troopers and seven horses died. Echo's death, the week before Christmas, made headline news. The deaths or progress of soldiers wounded in the conflict is not, however, deemed similarly newsworthy by Fleet Street.
Black ties and tales
ANARCHISTS get angry at the suggestion that they are so inherently disorganised that they couldn't run a car park on Rockall, let alone a revolution. Those Italian-based activists allegedly behind the bomb campaign aimed at Euro MPs and EU big wigs aren't helping the anarcho-syndicalist self-governing collective image with their name — the Informal Anarchist Federation.
Why "Informal"?
Do they call each other by their first names? Do they just amble along for a casually-planned attack against the EU super state when they like? Can they wear whatever they like? Do they get thrown out if they've ever worn a formal dinner jacket at their debs' ball? And can they just bring whatever comes to hand at the time when they do decide to stroll along to the Informal Anarchist Federation's GHQ for an operation?
"Hey, Luciano, it's one thing to turn up in a bright yellow Ali G tracksuit and with a crate of Export Guinness after the pubs close, but where's the bloody bomb and the burning fuse?"
Altered images
PRIVATE EYE magazine's 'Non-Apology of the Year' media award went to London's Evening Standard for this gem from 24 July 2003.
Insisting that it was happy to clarify the situation, the Evening Standard said:
"A number of readers have expressed concern that our front-page picture on 9 April, showing Iraqis celebrating the liberation of Baghdad, had been enhanced to depict a larger crowd than actually existed.
"As it was taken from TV footage, extra people were added to the image to fill the space left by the removal of logos from the picture.
"In our opinion, this did not alter the clarity or truth of the picture's message."
The message is clear: faked photos are okay when it suits the low Standard of Fleet Street.
An Phoblacht Magazine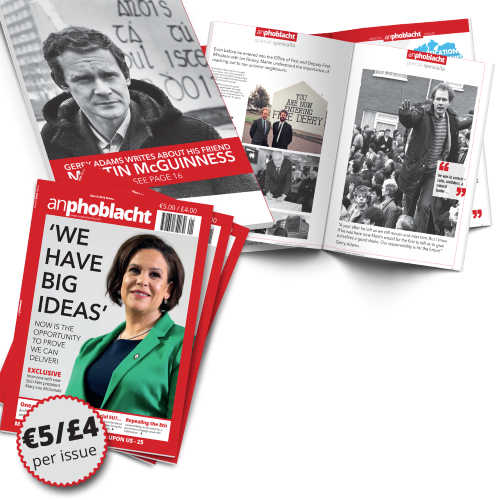 AN PHOBLACHT MAGAZINE:
The first edition of this new magazine will feature a 10 page special on the life and legacy of our leader Martin McGuinness to mark the first anniversary of his untimely passing.
It will include a personal reminiscence by Gerry Adams and contributions from the McGuinness family.
There will also be an exclusive interview with our new Uachtarán Mary Lou McDonald.
test