18 December 2003 Edition
A target for the State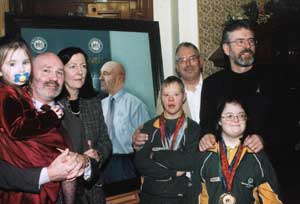 "Alex Maskey's home stands out from the other two-storey, two-up two-down dwellings in Gartree Place in the heart of West Belfast.
Callers are faced with the wrought-iron security gate, brick wall and steel railings that separate the front garden of the house from the rest of the street.
Mail is delivered in a steel letter box attached to the inside of the gate, parcels are screened by the Post Office for explosive devices before delivery.
An intercom is the only means of communication with the house itself. Once callers are identified a buzzer signals that the iron gate is unlocked, visitors are then able to enter the garden and walk up the same path that loyalists gunmen used in 1987 when the UDA came close to killing Maskey in front of his wife and children.
Standing at the concrete security porch waiting for the weighty lead-laden front door to be opened visitors are reminded that Alan Lundy was shot and killed on the same spot in May 1993.
Bullet marks are still visible on the first floor wall, the remnants of another UDA attack in January 1994 when the house was attacked with gunfire.
A guest sitting in the Maskey living room is protected, to an extent, by the bulletproof windows that have been installed there and indeed throughout the house.
Close circuit television cameras screen the front of the premises and the adjoining street, while a black and white TV monitor sits neatly on the fifth shelf of a huge bookcase that fills the entire wall on the left of the room.
A high-pitched buzzing noise announces another caller at the outer gate and leads to the close scrutiny of the figure on the monitor.
The routine is not aimed at impressing guests. Maskey still carries fragments of lead in his groin from the shotgun blast that nearly ended his life in 1987."
(extract from Alex Maskey Man and Mayor)
Alex Maskey, his wife Liz and their two sons, now young men, lived in this security hothouse for most of the last 20 years.
They have good reason to protect themselves as they have. Loyalists acting independently and at times with the approval and active assistance of the crown forces and their agents have made nine serious attempts on Alex's life. Alex is the most targeted leading republican on this island.
Reading this very well written book, Alex Maskey Man and Mayor, some 230 pages, I was left with the overwhelming feeling of how Alex, Liz and the boys could cope with such a high level of attack and threat to their lives over such a protracted period.
Liz is, of course, an activist in her own right and clearly is a committed republican but I asked myself several times as I absorbed one loyalist attack after another on Alex and his family at their home and one failed plot after another - where did they get the resolve to stay put?
Republican activists have been through many trials during the conflict. But for one's young family to be exposed to such relentless danger adds intolerable pressure.
There are a number of stories running parallel with each other throughout the book.
They complement one another and by the book's end you not only get an insight into Alex, the 'Man and Mayor', you also have a sense of his partner Liz and their children and the investment they have put into the struggle.
In addition to this, through Alex's story you understand why Sinn Féin is the largest party on Belfast City Council; why Sinn Féin has a commanding lead over the SDLP across the North; why it is positioned to appoint a Deputy First Minister if an Assembly is set up and why republicanism is so strong in Belfast, the city chosen by unionists to be their capital of their state.
Alex won't thank me for describing him in the following terms because he doesn't see himself in this way. In my opinion, he carries the qualities that made the republican movement the movement it is today.
He is a very brave, determined and tenacious republican. From working with him as Mayor, I also learnt that he is quick-witted, thoughtful and has a wicked sense of humour.
The brevity of the book and the speed with which it was written means it is the former qualities that are more obvious.
Twenty years ago this year, Alex was elected to Belfast City Council. He was the first Sinn Féin councillor to be elected to the Council since 1920.
In 1983, republicans were entering into uncharted and dangerous waters. Councillor Tom Hartley described in the book what republicans were facing: "It was obvious the Brits and the loyalists were going to try to knock us out at the first stage by destroying or killing whoever was chosen to go into the councils. This was a serious job that needed serious people. Alex Maskey personified what was needed for the job."
He was chosen by Sinn Féin to lead the party's entry into electoral politics, the most important venture since the start of the armed struggle by the IRA in 1970. He was carrying a very heavy load.
He was chosen by the electorate to represent them, and he was selected for assassination and harassment by the crown forces, their loyalist allies and unionist parties.
He was the public face of the republican struggle at the centre of where the struggle was being most violently waged, Belfast.
Those trying to kill him believed that if they broke Alex and his family then they could break the republican struggle in Belfast and if they succeeded in Belfast, they could succeed elsewhere.
The campaign of intimidation operated at a number of levels, which in the course of time were extended to other Sinn Féin councillors who joined Alex.
Loyalists, directed by their British handlers, led the most deadly offensive. Alex's colleagues on the Council were also targeted. Bobby Lavery's son and brother were shot dead, Seán Keanan was shot and seriously wounded, Gerard McGuigan's home was also attacked and practically every Sinn Féin councillor's life was threatened. A total of 14 Sinn Féin councillors North and South were shot dead.
The fundamentally undemocratic nature of unionist councillors was regularly on display. Inside the chamber, unionist councillors drowned out Alex's attempts to speak. He was denied appointment to Council committees or outside bodies. All Sinn Féin councillors experienced similar treatment.
On several occasions, unionist councillors ordered the RUC to evict Alex from the chamber. By October 1991, Sinn Féin had tried 151 times to put motions before the Council and were blocked by unionists each time.
He was arrested regularly and charged with assaulting the RUC or resisting arrest. He challenged these arrests and was compensated in the courts.
He was deprived of any means supplied to others under threat by the authorities to protect himself and his family against attack by loyalists.
His family were also harassed. Liz was arrested and held for several hours while on her way to visit Alex when he was critically ill after being shot. When he was coming home through Heathrow airport on crutches after a period of convalescing, he was arrested and held for several days and deported from Britain. His detention was designed to prevent him from attending a Council meeting in Belfast. His absence could have cost him his seat.
In 1983, Alex entered Belfast City Council on his own. Fourteen turbulent years later, history was again made when he was joined by 12 other Sinn Féin Councillors. This impressive figure, added to the number of SDLP and Alliance councillors, ended over 60 years of unionist domination of City Hall politics.
The wheels of change were turning slowly and as each Council election passed, the prospect of a Sinn Féin Mayor in Belfast drew closer.
There were those like the DUP bigot Sammy Wilson, whose hatred for Sinn Féin blinded him to the changing times. His whining, pipsqueak voice is heard throughout the book, declaring Sinn Féin would achieve nothing.
He famously said that there would never be a nationalist Mayor or Deputy. And when Sinn Féin's Marie Moore became Deputy Mayor, he blundered on, saying Sinn Féin would never occupy the Mayor's seat.
Wilson would do well to reflect on the title of the book's introduction, a quote from Mahatma Ghandi: " First they ignore you, then they laugh at you, then they fight you, then you win."
After three attempts and almost 20 years in the City Council, Alex was elected Mayor of Belfast. His first priority was to challenge the stereotyped image that was built up around him during this time.
Assisted by a group of senior republicans in Belfast, it was decided the post of Mayor would be used to strengthen the peace process. During the year, many initiatives were taken aimed at reaching out to the unionist and Protestant people of Belfast and beyond.
His term of office will probably be remembered for laying a wreath at Belfast's cenotaph in memory of those killed at the Somme and the First World War. But he made many other gestures as well, not least of which was to include the many ethnic peoples of Belfast in his yearlong itinerary. They now have a permanent place in the Mayor's parlour through the artifacts they donated to Alex.
As Mayor, Alex opened the City Hall up to the ordinary people of Belfast. Looking back over the year, he told the book's author: "If I remember one thing about my year in office, it was the sound of the schoolchildren chattering and laughing inside the Mayor's parlour. To me that was one of the few times in 20 years that I recall the City Hall coming alive."
Portrait of an idea
It is traditional for the Mayor of Belfast to commission an official portrait, but that of Alex Maskey, unveiled last week, is very different to the standard format. "For me, with no disrespect to my predecessors, the conventional portrait of a person alone with just the chain of office, said very little," says Alex. "I couldn't see the point of it. I wanted to carry on the themes of my term of office, which were Equality, A City of Equals, and Inclusivity."
The work, by acclaimed artist Robert Ballagh, is almost a painting within a painting, as Maskey is portrayed outside an inner frame that illustrates his year in office. The collage of images of people and words include representations of the ethnic diversity of Belfast, represented by the Chinese community, and of the Special Olympics, through two local participants, which took place during Maskey's term
"I was delighted that Robert Ballagh was willing to take the work on," says Alex. "We sat down and talked about the notion of reflecting the year and I am really pleased with the result."
A groundbreaking portrait for a groundbreaking mayor.