27 November 2003 Edition
Taoiseach told to raise sectarian attacks with Blair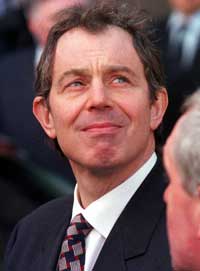 Speaking during Leader's Questions in Leinster House on Tuesday, Sinn Féin TD Caoimhghin Ó Caoláin called on the Taoiseach to raise as a matter of urgency with the British Prime Minister the ongoing series of sectarian attacks against Catholics in the Six Counties which last week resulted in the death of a young man in Lisburn.
Ó Caoláin asked if the Taoiseach agreed "that the ongoing series of sectarian attacks against Catholics, especially in communities where they are in a minority, is a cause of huge concern?"
"The latest casualty was a 21-year old man, James McMahon, who was beaten to death by a loyalist gang in Lisburn, last Thursday 20 November. This follows another brutal attack in Belfast the week before when a man was maimed with a machete. Does the Taoiseach share my concern at how little attention, both media and political, these continuing attacks have received, especially in this jurisdiction? Does he share the concern that now as in the past British Intelligence and the RUC Special Branch have heavily infiltrated loyalist groups and they must also be called to account for the continuing prevalence of sectarian attacks. Has the Taoiseach raised this matter with the British Prime Minister and will he do so when he meets him this week?"
Ó Caoláin went on to point out that there were in the period July to October, at least 160 sectarian attacks, including over 50 pipe bomb and petrol-bomb attacks, a stabbing, the beating of a pregnant woman who lost her child and several attempted abductions. "We have also seen many attacks on the homes and schools of Catholics," he said.