20 November 2003 Edition
A party on the rise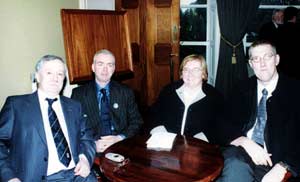 As part of our continuing Six-County election coverage, An Phoblacht takes a closer look at some key constituencies.
SOUTH BELFAST
Sinn Féin envisages a community regeneration programme that will be of benefit to all communities in South Belfast.
Speaking at the launch of the party's election manifesto for the area, South Belfast Assembly candidate Alex Maskey said "we believe that our vision for South Belfast lies in harnessing the undoubted potential of many within our communities to the vast opportunities that exist in this part of the city.
"We will work to create a safer environment for all — a society free from sectarianism, racism, poverty and crime.
"We aim to tackle the issue of economic neglect, which sadly, exists in communities throughout this constituency. Along with the high levels of prosperity which thrive throughout Laganside, Sinn Féin intends to address the needs of those working class communities who have not shared in the economic success of South Belfast."
The Former Lord Mayor of Belfast says that Sinn Féin intends to continue its campaign for effective youth services to enhance the lives of young people in the area.
"We will also continue to advance the many successful policies of Former Assembly Health Minister, Bairbre de Brún and campaign for the retention of A&E Services at the City Hospital. We plan to build on the excellent relationship between ourselves and the South and East Social Services Trust in order to enhance and develop more resources for our health providers."
One of the more ambitious and serious concerns in South Belfast is the problem of housing or rather, the lack of it.
Maskey says Sinn Féin will protect "the unique character of the area" by challenging the existing planning policy which has resulted in developers demolishing many of the traditional homes in the constituency in order to build high density apartment blocks.
"We will campaign for 30% of all new development sites to be designated for socially affordable housing. Sinn Féin will also highlight the need for positive incentives to assist those first time buyers who enter the housing market."
Other issues of note for Sinn Féin include the needs of those who are most at risk within society.
Maskey says the party will continue to campaign for the enhancement of rights of the elderly and is calling for the development of strategic partnerships between community, public and private sectors for Urban Regeneration and Neighbourhood Renewal.
"Our manifesto is based on equality for all and political representation for all, which we believe are principles that have been absent for many in South Belfast," said Maskey.
UPPER BANN
Sinn Féin's candidates for Upper Bann are Dara O'Hagan and John O'Dowd, two experienced and committed voices.
O'Hagan has already been highly effective in representing her constituency as an elected MLA, and is Sinn Féin's spokesperson on Equality and the Economy. She has long been one of the party's main spokespeople on the issue of Orange marches and to the forefront in demanding an end to the Orange Order siege of the nationalist Garvaghy Road.
O'Dowd is the Chairperson of Upper Bann Sinn Féin and a member of the party's Six-County Executive. He is Sinn Féin's group leader on Craigavon Council and a member of several committees. He is also a school governor and an advisor to the Community Association.
Sinn Féin's political goal in this constituency is to win two seats. As it is the largest nationalist party in Upper Bann by more than 3,000 votes, both O'Hagan and O'Dowd are confident they are well placed to take that second seat.
To that end, Upper Bann Sinn Féin has been hard at work for a long time.
"We began rigorously campaigning long before the election was announced," explains O'Hagan. "Our election campaign actually began two to three years ago.
"We have the work and experience of two established candidates and all the hard work and determination of our support staff to draw on. So we are confident that we will continue to get results."
Issues of concern in Upper Bann are similar to those throughout the Six Counties.
"Sinn Féin's role in the peace process, water charges and the social and economic infrastructure of the area are key issues for us," says O'Hagan. "We have been highlighting those concerns locally and the response we are getting on people's doorsteps has been very, very positive.
"Upper Bann is well placed to benefit from Sinn Féin's all-Ireland policy as this area's manufacturing base has collapsed and economic sustainability is a real concern. Community regeneration would be another point of interest to us and we are also actively confronting the issue of racism, as there have been a number of serious racist attacks on visible minorities in the area, particularly against the Muslim community.
"However we are very optimistic about the future. We have even been called upon by members of the unionist community for assistance in one area or another, and we have been happy to assist them whenever we are able to."
FOYLE
Sinn Féin is standing three strong candidates in the Foyle constituency.
They include former H-Block hunger striker Raymond McCartney, the party's National Chairperson Mitchel McLaughlin and Councillor Mary Nelis. Both Nelis and McLaughlin have already served the area as highly effective MLAs and it is hoped a third seat will be returned for Raymond McCartney.
McLaughlin is also Sinn Féin's spokesperson on the Environment. In the past he was a leading member of the National H-Blocks Committee and was central in formulating Sinn Féin's current peace strategy.
Nelis is a committed community activist and councillor. Her political CV is that of a republican determined to make a difference. Throughout her life Nelis has been active in both community and women's groups. She was elected as a Sinn Féin councillor for the Northlands area of Derry in 1992 and to the Assembly in 1998. She is party spokesperson for Housing and Social Development and Pensioners' Rights.
Since Raymond McCartney's release from prison, he has been actively involved with political ex-prisoner groups throughout Ireland as the Chairperson of Coiste na nIarchimí. He has also made a valuable contribution to the development of Sinn Féin's peace strategy.
Speaking to An Phoblacht this week, McCartney said the Foyle election team is determined to continue the party's hard work the party within the constituency and is steadfastly focused on the upcoming election.
"Our objective, as in every election, is to maximise our vote," says McCartney, "and to that end we have set ourselves a target. We believe that a third seat is available to us in this constituency. Sinn Féin currently holds two seats and the SDLP have three. There's no doubt that — based on figures from past elections — the SDLP have a 5,000-vote lead, but our aim is to overtake that."
"Our canvass returns so far have been very favourable. We've gotten a very good response from the public and believe a third seat is a distinct possibility."
McCartney says the Foyle constituency team regularly deals with issues as diverse as the peace process, the lack of infrastructure in the Northwest resulting in a shortage of jobs, and the lack of amenities for young people.
FERMANAGH/SOUTH TYRONE
Sinn Féin has three candidates running in the Fermanagh/South Tyrone constituency — Gerry McHugh, Michelle Gildernew and Thomas O'Reilly.
Sinn Féin currently holds two seats and the SDLP one, but the local Sinn Féin election team is ambitious indeed. They hope gain a third seat from either the UUP or DUP.
"The number of first preference votes that one successful UUP candidate got after the first count last time was only about half the quota," says Gerry McHugh. "So given the amount of votes that Michelle Gildernew gained in the last election, and the local government election that we have had, we feel we may have enough support to take a third seat.
"We couldn't say if we will get votes from unionists, but we certainly have no difficulty in working for the unionist community and they have no difficulty coming to us daily to have problems solved."
Gildernew has already served the area as both an MP and MLA. She is a member of Sinn Féin's Ard Chomhairle and is currently the party's spokesperson on Education. She was elected MP for Fermanagh/South Tyrone in June 2001.
McHugh has also served as an elected Sinn Féin MLA, and was instrumental in organising the H-Block campaigns and the historic elections of both Bobby Sands and Owen Carron.
He is a member of Fermanagh District Council and was on the Assembly's Agriculture and Rural Development Committee and the Education Committee. McHugh is Sinn Féin's spokesperson on Agriculture and Rural Affairs.
O'Reilly is a full-time youth and community activist who is particularly committed to the needs of young people. He has worked tirelessly to highlight the lack of youth provision in his area and is a member of the Western Education and Library Board.
As a predominately rural border area, this constituency has a variety of concerns, the most pressing of which relate to agriculture, transportation, health and education issues.
"As we are a border county, Sinn Féin has been promoting the idea of building on an all-Ireland basis by invigorating the Fermanagh and Monaghan authorities through a local partnership," says O'Reilly. "It is an effort to bring investment to the area and reinvigorate a constituency traditionally forgotten and stunted in its development because of border road closures and checkpoints.
"Sinn Féin has also been reaching out to young voters and has tried to give young people a voice through local government. We have been involved with the Shadow Youth Council, which is made up of young people from all the schools in the area and has been active for several years now."
The highly-successful project has been active for a number of years now and Sinn Féin has been lobbying for speaking rights so that the Youth Council can speak before Fermanagh District Council.
"We have also have serious concerns around the issue of school transportation for children and young people," adds McHugh, "and we want to see the disparities in educational qualifications between North and South eradicated.
"Children shouldn't have to walk dark or dangerous roads or run the risk of potential personal attacks in order to reach school, yet the education departments, both North and South, are moving away from providing increased school bus provision.
"Educational funding and school fees are other obstacles we would like to overcome, and we want harmonisation of accreditation so that people can move and work freely across the border.
"Farmers with problems regarding their payments are another serious concern, a massive issue, because quite a lot of money is lost there. There are massive inequalities out there but we've had a lot of very positive feedback from all our constituents and we look forward to the challenge."
As far as public response goes, the Fermanagh/South Tyrone election team has been both excited and encouraged by the reaction of voters to their campaign.
"The response we have been getting has been absolutely brilliant," says O'Reilly. "It's unprecedented.
"There is an appetite out there, a real sense of urgency. People are enthusiastic about voting and angry about all the delays. They want the chance to express their opinion."
EAST DERRY
In the East Derry constituency, Sinn Féin candidates Francie Brolly and Cliona O'Kane say the response they have been receiving from the public has been "fantastic".
They are optimistic that they will reach their objective of two seats in East Derry.
O'Kane has been active in politics since joining Ógra Shinn Féin at 16. She works full time in the Dungiven Sinn Féin advice centre and has also worked as election manager in East Derry for the past three years. She is Sinn Féin's spokesperson for Young People, Community Regeneration, and Rural and Social Affairs.
Brolly, meanwhile, has been a political activist for more than 30 years. A prominent member of the Civil Rights movement, he was elected to Limavady Borough Council in 2001.
A renowned musician, Brolly is also a longstanding member of the GAA and has been active in promoting the Irish language.
Issues of concern in East Derry include the lack of provision for young people and children, high unemployment and governmental neglect, community regeneration, and the promotion of the Irish language and culture.
O'Kane says that sectarian intolerance in all its forms has left an indelible mark on the people of the area and greatly diminished their quality of life.
"Catholics who have lived in Coleraine all their lives have been finding themselves quietly flushed from flashpoint areas by the Housing Executive," says O'Kane, speaking of the ongoing discrimination, "and Catholic communities in the town have been living on their nerves 365 days a year.
"There are loyalist flags everywhere and road kerbs are painted red, white and blue. There are sectarian band marches. Coleraine Council permanently flies the Union flag and to date the only Catholic representation in Coleraine has been the SDLP.
"However, the SDLP have not delivered. We need Sinn Féin representation in Coleraine. Sinn Féin will get results."
NORTH BELFAST
Sinn Féin MLA Gerry Kelly is joined by colleague Kathy Stanton in the race for seats in North Belfast and the two make an experienced and formidable team.
Kelly is a leading member of the Sinn Féin negotiations team and is party spokesperson on Policing and Criminal Justice.
He has worked to secure economic investment for the area and is currently focused on a resolution to the constituency's housing crisis. Stanton too, is a former political prisoner. She has served as a Councillor on Belfast City Council and works full time for Sinn Féin in North Belfast.
A committed community activist, Stanton has been involved in Community Restorative Justice programmes and met with British and Irish Ministers in an effort to end sectarian violence at interface areas. She is also Sinn Féin's spokesperson on Human Rights.
The North Belfast constituency has suffered long term social and economic neglect, and in spite of the fact that more than half of the population of the New Lodge area is under 25 years of age, there are no local sports facilities or provisions for young people and children.
Issues of concern here include the lack of available quality housing, the alarming rise in the suicide rate among young people, chronic long-term unemployment, and low inward investment.
North Belfast residents endure high poverty levels, poor educational attainment, physical dereliction, and serious levels of physical and mental ill health. As the area is surrounded by interface areas, sectarian violence is also a continuous problem. Over a quarter of all shooting incidents in the north in 2000/01 occurred in the New Lodge area.
Stanton says the North Belfast Sinn Féin team has been hard at work on these issues and wants to see the lack of core funding properly addressed so that the area can encourage sustainable community resources, industries and employment.
"This constituency has been left behind in terms of investment. Housing is another area which desperately needs to be addressed - not just the lack of available quality homes, but also provision for home improvements and the need for land and space to build new ones."
Stanton has also been vocal about the levels of social exclusion and deprivation suffered by the area.